This is Robert Eiter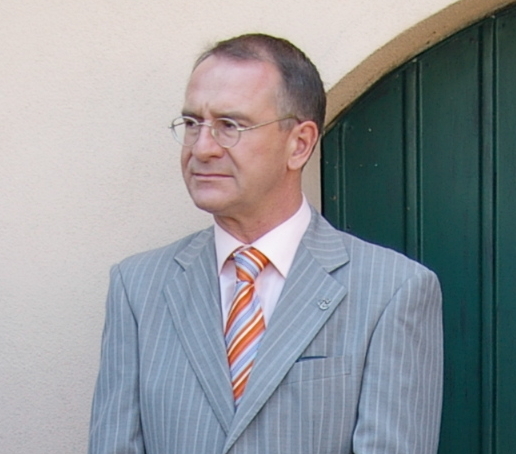 Robert Eiter was born in 1960 in Wels, Upper Austria, not too far from Linz. He is a lawyer, a journalist and founder of the Initiative Against Fascism Welser (Antifa) which he headed since its inception in 1984 until 2010. He is currently head of the Upper Austrian Network Against Racism and Right-Extremism, according to recent news reports about the Hitler grave desecration.
It is interesting for non-German speakers to learn that the word "eiter" means canker, or pus. Really! As the Romans said: "Nomen est omen." (Your name holds your destiny.)
What is the Welsian Initiative Against Fascism?
This independent initiative combats "right-wing extremism, racism and antisemitism." Thus, the "brown spots" of Wels - three symbols with Nazi Reference - were removed after a long and fierce conflict in 1996/97. The same tenacity led to the dissolution of the extreme right "Society Dichterstein Offenhausen" in 1998/99.
At the instigation of Eiter and the Antifa the city built three memorials for Nazi victims and named several streets after Anne Frank and Rosa Jochmann. Annually, the Antifa in Wels and Gunskirchen organizes memorial rallies. Many famous people were in these rallies as guest speakers, including the Austrian Federal President Dr. Heinz Fischer, the actor Christiane Hoerbiger, Dietmar Schönherr, Harald Krassnitzer and Erwin Steinhauer, the writers Michael Köhlmeier, Robert Schindel and Doron Rabinovici, as well as the political scientist Anton Pelinka.
In the schools, Eiter and the Welsian initiative do "democratic" educational work: for example, around 6000 young people saw a special performance of the anti-fascist film "Schindler's List;" more than 5,000 have taken part in the witness-programs with concentration camp survivors. To improve the situation of migrants in Wels, Eiter set up the integration-office "Mosaic" which shapes the policies of the city significantly. In the "humanitarian" field he and the Antifa helped the family of the victim's of a "neo-Nazi arson attack."
Further engagement
Eiter is also the co-founder and spokesperson of the Upper Austrian network against racism and right-wing extremism. 
This network exists since 2001. Meanwhile 58 political, religious, cultural and humanitarian organizations take part - from the Catholic Action of the Youth Union to the Scout Movement.
In addition, Eiter is a member of the Board of the concentration camp Mauthausen Committee Austria (MKÖ) since 2002.
His main job is working in the communications department of the Chamber of Labour of Upper Austria, which is composed of the legal representative of the workers in Austria. It is associated with the communist trade unions, the Social Democrats and the Green Party, mostly.
In other words, he is our enemy in every way you can think. That this one man can do so much damage should not be surprising. What should be done about the 52-year old Robert Eiter?

Thanks to a correspondent in Germany for the above information and picture.