Russia - The Workers' Paradise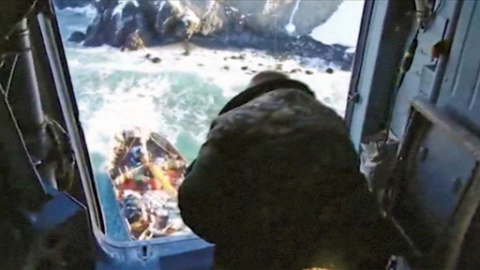 Survivors from the icy waters being pulled up into a rescue helicopter.
Moscow (Reuters) - Greed and corruption were to blame for the sinking of a Russian trawler last week in which at least 56 crew died, a spokesman for investigators said on Wednesday.
The Dalniy Vostok fishing vessel sank in the icy Sea of Okhotsk off Russia's far eastern coast last Thursday (April 2). Sixty-three people were rescued out of a crew of 132 people, with 13 missing presumed dead.
Seventy-eight of those on board were Russian and 42 were from Myanmar (southeast Asia). The remainder were from Vanuatu (Oceania), Latvia and Ukraine.
Many past Russian disasters have been blamed on negligence or violation of safety regulations.
"There are no doubts that this is a crime at the base of which lies the greed of the businessmen who owned the vessel and corrupt officials," Vladimir Markin, the Investigative Committee spokesman, told Rossiya 1 television, TASS news agency reported.
"Both the owner of this vessel and the captain knew that in the petrol tanks there was a minimal amount of fuel, the trawler's ability to right itself was affected."
Markin also said investigators had established that there were not enough lifeboats on the Dalniy Vostok for over 20 crew members.
"We know that on board there were a large number of foreigners who were working there illegally. We know who brought them in and by what means," he said.
"We have concrete officials (in mind), whom I won't name so they don't run away, but we will bring them to justice."
http://news.yahoo.com/russian-trawler-sunk-greed-corruption-investigators-182732405.html