Trump: The nation-state remains the true foundation for happiness and harmony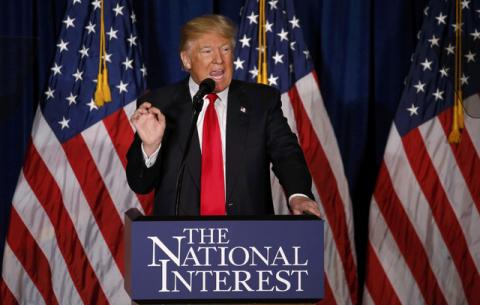 Donald Trump speaking on foreign policy in his address to the Center for the National Interest in Washington DC on Wednesday.
IN HIS FOREIGN POLICY SPEECH today, Donald Trump made it clear that he really means it when he says he wants to make America great again. Though there was nothing scary in his speech, unless you are a globalist (which many are), the real jewel hidden in his speech came near the end:
We will no longer surrender this country or its people to the false song of globalism. The nation-state remains the true foundation for happiness and harmony. I am skeptical of international unions that tie us up and bring America down.
And then he said: "And under my administration, we will never enter America into any agreement that reduces our ability to control our own affairs."
Beautiful stuff, and I'm certain he means it. Of course, he also said this in the beginning:
In the 1940s we saved the world. The greatest generation beat back the Nazis and Japanese imperialists. Then we saved the world again. This time, from totalitarianism and communism.
I'm not sure he really believes this, but he needs to say it in order to be President of the United States. This is the first time I've ever heard him use the word "Nazi" and I don't think it's a word that's common in his vocabulary. He does have a misunderstanding of America's role in the 1940's but then I think what he was getting at is that America was really strong then, and he wants to become strong again.
In fact, the main reason I would never vote for Ted Cruz is that he believes in and practices total obsequiousness to Israel. It's to such a degree that he practically thinks the US exists to serve Israel, just like the Federal Republic of Germany. All Trump said is: "President Obama has not been a friend to Israel." I think it's important to remind Mr. Trump that Israel has not been a friend to us! There is the U.S.S. Liberty bombing with the murder of our servicemen; the spying, for example the Jonathan Pollard affair; the effort to destabilize the middle east and get US to fight the wars. This is not friendship and President Trump will eventually (hopefully) have to acknowledge it.
He did say in the speech:
"... our allies are not paying their fair share, and I've been talking about this recently a lot. Our allies must contribute toward their financial, political, and human costs, have to do it, of our tremendous security burden. But many of them are simply not doing so."
It's a certainty that Israel doesn't do so, but he never mentions Israel when he points to Japan, South Korea, Saudi Arabia, and Germany. This cost-conscious President will surely need to be reminded about Israel's cost to us again and again, even if it is Congress who votes all those billions for Israel.
But I am thrilled that he wants to preserve the nation-state, which means he recognizes nationalities, and the different cultures that go along with them as having to be protected from international corporations and the agenda of the globalist elites. Build that wall!