Why are these people becoming German citizens when Germany is already overcrowded?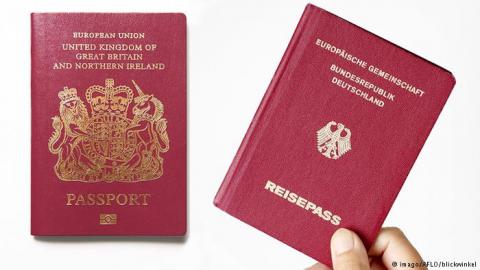 A record number of Britons are switching their citizenship to Germany in the wake of Brexit. Some left Germany during the Third Reich period so are not the type Germany needs today.
---
By Carolyn Yeager
IN 2017, 14,984 TURKS BECAME CITIZENS OF GERMANY. Because of Brexit, the next highest number was Britons at 7,500 (half the number of Turks). After that comes those darn Poles (6,613), Italians (4,256) and Romanians (4,238).
That adds up to 112,200 new German citizens in 2017 alone. Note I did not say new Germans for they are not.
This is the problem with the 'Europe' idea – Europeans are thought to be interchangeable with one another. This is not true, otherwise why aren't other Europeans trying to become citizens of Poland or Romania? Or even of Italy? People of nationalities with struggling governments and economies want to switch to a country with stable leadership and a prosperous economy. This means Europe is becoming more a place of 'civic nationalism' (like the USA) and less a place of racial nationalism (ethno-nationalism).

The cost involved in that is to those Germans who want to bring their one and only country back to a more traditional Germany as it used to exist -- for example, the NPD and the AfD party members and voters. And the Reichsbuerger. That's why the current globalist leaning leadership will take in as many non-Germans as want to come--because they are anti-German.
I am against the whole European idea, except for a 'common market'. But since I'm an American, and a senior citizen at that, all I can do is draw attention to it and complain.