Why are White people traitors to their race? Blame the Christian churches.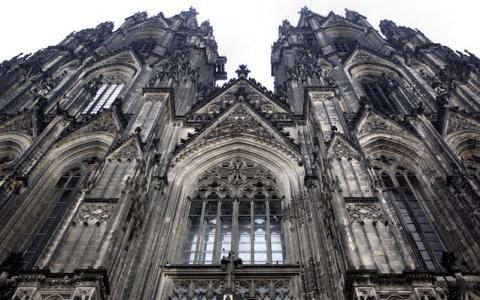 Cologne Cathedral
---
By Carolyn Yeager
THIS WEEKEND, THE "ALTERNATIVE FOR GERMANY" (AfD) registered political party will hold its federal party conference in Cologne. The Christian churches of this city view this with concern - and are planning counter-events.

The churches in Cologne feel that it is important to make it clear that "hate and intolerance are not a means of political debate." So said the Catholic city commissioner of Cologne, Robert Kleine on Wednesday. "Because of our faith, we are committed to charity, tolerance and solidarity," he said.
Solidarity with foreign invaders, thieves, rapists and murderers, I ask? Rather than solidarity with the sober-minded, far-seeing German folk of the AfD who cannot be accused of promoting "hate" or "intolerance"? Very strange who the churchmen feel "committed" to in the name of tolerance.

The Protestant superintendent of the city, Rolf Domning, drew attention to the fact that the AfD had introduced a concept like "völkisch" back into the debate. The word came from the "poison cabinet of the Nazis," says Domning. "That makes us listen." The Church also wanted to set an example for refugee aid with its actions. The commitment to people in need is not just for humanitarian reasons but follows the call of Jesus: "Thou shalt love thy neighbor as thyself."
This is the last straw for me. I am totally down on any support for universalist Christianity. Every denomination has become more interested in foreigners than in their own European folk. Their allegience is to the survival of their own universalist church, not to western civilization or western man. Therefore, western man owes it no allegience either. Adolf Hitler had this right too. Christianity under organized church leadership is Bolshevism – a religion for slaves. We should be protesting outside of these churches, accusing them of the crime of treason – and of perverting the original teachings of the Holy Church.

The campaigns are under the motto "Our Cross Has No Hooks" and will take place in alliance with the city protest -- "No racism in Cologne". A "political night prayer" in the Protestant-free peace church on Friday evening as well as a vigil at the evangelical Antoniterkirche are planned.
Six large protest demonstrations with several tens of thousands of participants are expercted to take place this weekend, with several thousand police on hand. Even so, Cologne Cathedral will remain open without restrictions – even for the "racists" and "nazis" from the AfD, if they should have time to visit.

The AfD is not racist ...
But the city of Cologne and the Christian church organizations do exhibit a racist death wish for their German parishioners and citizens due to their unlimited welcome to aliens.
All the AfD is doing is holding its annual National Congress at the Maritim-Hotel in downtown Cologne on Saturday and Sunday. Two days! As an approved political party with the third highest polling in the country, it should certainly be allowed to do what all other parties do: elect their top Bundestag candidates and decide on their election program. Where does the established Church get off with their name calling and protesting over that?