Xi state dinner is a family affair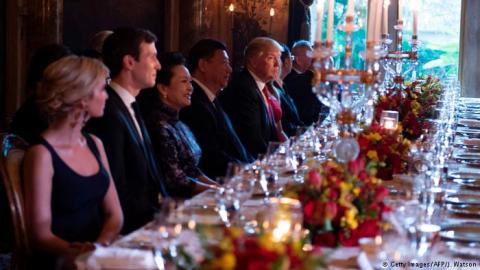 By Carolyn Yeager
LOOK WHO'S SEATED NEXT TO THE CHINESE FIRST LADY at the Mar-a-Lago state dinner Thursday night. The Jewish son-in-law/advisor Jared Kushner, who never seems to be far from the President in any meeting or social gathering. Right next to him is wife Ivanka
I do not know what modern exceptions to traditional protocol might have been made, but I have always seen the First Lady next to the male guest/leader and the President next to the honored guest's wife. So you would have FLOTUS, President Xi, Mrs. Xi, POTUS. Instead, here we have the two leaders seated in the center next to one another so they can talk, while the two wives are on the outside next to their husbands, not as easily included in the conversation of the two men.
Mrs. Xi has the young Jared Kushner as a dinner partner, with Ivanka no doubt a part of their conversation as well. Melania, on the other side, appears to be left out. In the above picture, it looks like a Chinese man wearing glasses is on Melania's left. I assume he speaks English so that she has someone to interact with while her husband ignores her during dinner. I've seen it too often.
It occurs to me that the dinner had to be scheduled for Thursday because on Friday night, being the beginning of the Jewish Sabbath, the orthodox First Daughter and husband would not have been able to attend.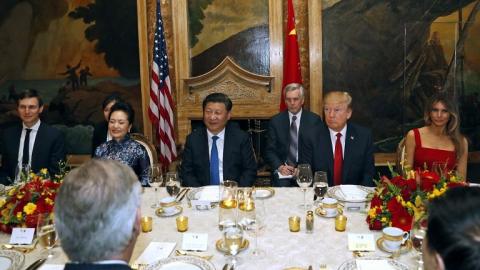 It may be that Trump prefers entertaining at his Mar-a-Lago estate over the White House because he can control things like this. The menu too - it's reported that his favorite dry-aged steak and whipped potatoes were being offered. 
I'm becoming somewhat irked at our president, not because of his need to be the center of attention at all times or even because of his order to bomb Syria (although those things do chafe), but because he is not moving on immigration as he should. Why hasn't he ended the "Dreamer" program? He's gotten rid of all kinds of Obama executive orders but not that one. Is he listening to advice from the liberal wing of his administration, which certainly includes his daughter and son-in-law (who definitely want to see him re-elected and don't think the radical right benefit that goal at all). But oh, if only Kris Kobach had the face time with Trump that Kushner does.
Every candidate who runs for office comes with some amount of baggage, and Trump's is far less than that of every other choice we would have. But I think it's time to start pushing him to keep his immigration promises. That is the most useful thing we, and he, can do.