Zschäpe defence continues to call for mistrial
The NSU murder trial resumed this week in Munich, Germany. This account was taken from The Local/Germany and Der Spiegel Online on Wednesday. -cy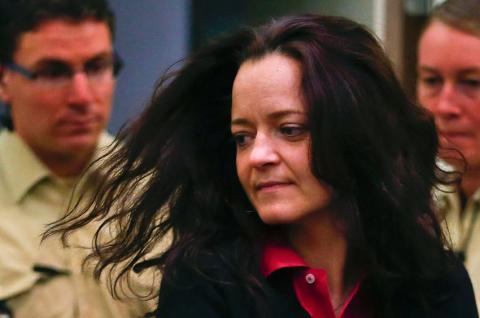 Beate Zschäpe enters the courtroom for the 6th day, this time in a red blouse.
Zschäpe's lawyers are demanding termination of proceedings, based on what her lawyers say was an illegal pre-trial assumption of guilt, according to the Frankfurter Allgemeine Zeitung.

The defence point to statements by Chief Federal Prosecutor Harald Range, who they claim repeatedly described Zschäpe as a member of a "gang of killers," "terrorist organisation" or "terrorist trio" after her arrest in 2011, before the criminal investigation had even begun.

The prosecution's case against Zschäpe, say her defence lawyers, is based on assumptions about her role in the trio and closeness to other members which have not yet been proved.
I'm glad her lawyers are doing this. I've been shocked all along by the statements by the Prosecutor's office, the Chancellor's office and in the newspapers that paint the trio as totally guilty of all charges!-cy
One of the defendants, Carsten S., (right) testified late on Tuesday that he had supplied a weapon to now-deceased NSU members Uwe Mundlos and Uwe Böhnhardt. It was a Ceska 83 pistol with silencer and ammunition, which police say was used in nine of the ten murders, and was knowingly supplied by Carsten S. for this purpose.
Carsten S. denied this, saying he assumed "nothing bad would happen" with the weapon, adding that he had a "positive feeling" that what the trio were doing "was ok."
"I remember it had to be a German make, a handgun with ammunition," Carsten S. told the court, and said he had received orders from Mundlos and Böhnhardt on the phone, which he then passed onto another alleged accomplice, Ralf Wohlleben.
The prosecution said that the fact that the gun had been supplied with a silencer meant that Carsten S. had known that it would be used aggressively and not as defence, as he maintains. However Carsten S. said that the men had not requested a silencer, he had only sold them one because that was what was available.
Carsten S. testified that the phone call was "a normal conversation, nothing special. I would have remembered anything out of the ordinary."
When asked what he had known about the men and their alleged accomplice Beate Zschäpe, he said "Nothing. I just knew they were underground or on the run. I didn't know where and how they lived or who was helping them."
Carsten S. also said he had helped the trio get hold of a motorbike used in a robbery and had once broken into Zschäpe's old flat to take files and documents which were then destroyed.
"I kind of felt, those poor persecuted [people], you have to help them," he told the court.
Carsten S. also told the court he felt strong when he was part of the far-right scene and described how he had taken part in racially-motivated attacks.
He said he had been opposed to Germany being a multicultural society and was against financial capitalism. "It was a simple ideology, black and white. The fact that we were losing our homeland, that we're governed by financial Jewry, and in a certain respect I believed in that."
He said the deicisive motivation for him was that he felt good being part of a [neo-Nazi] group. "I felt respected. I felt good. I felt strong." He also said: "The feeling of belonging, I thought it was great."

Der Spiegel says Carsten S. is one of the most important witnesses for the prosecution. He said he quit the neo-Nazi scene in 2000 and moved from Jena in eastern Germany to Düsseldorf to study social pedagogy. He has been cooperating with the police since his arrest in 2012. If found guilty, he could face a jail term of three to 15 years.