AfD's Petry recommends more Germans carry guns; Green party goes beserk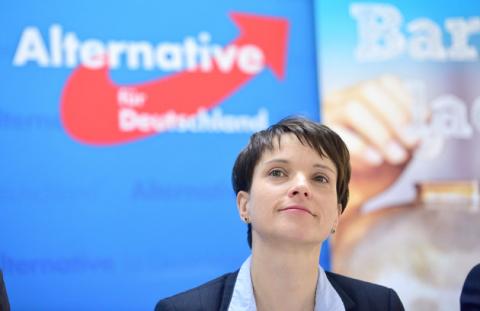 By Carolyn Yeager
FRAUKE PETRY HAS SAID GOVERNMENT HAS LOST ITS STATE MONOPOLY to protect the public, especially in thinly populated areas.
As reported by DW.com, AfD leader Petry said there were no grounds for concern when citizens armed themselves for self-protection in areas where austerity measures by national and regional governments had systematically ruined police services. She was quoted as saying:
Every law abiding person should be in the position to protect himself, his family and his friends.
Immediately Green Party co-leader Katrin Göring-Eckardt denounced Petry for wanting to "put weapons in the wrong hands," saying that trained recruits should be hired where police forces were depleted. As if German people cannot be trusted with a private weapon for self-defense, which is exactly what the Green party and other left-leaning parties believe. And where do the "trained recruits" come from? This is just the Left's historic demand for strict gun-control to keep weapons in government's hands and the people powerless.
But Petry said, "We all know how long it takes for police, especially in sparsely populated areas, to arrive at the scene of deployments … many people are increasingly feeling unsafe."
She referred to the reality that weapons are being obtained in the "Darknet" – such as by 18-year old German-born Ali Somboly who killed 9 people in Munich in July with a gun purchased that way. The DW article actually described him as "deranged," not linked to Islamic extremism but inspired by Norwegian Anders Brevik, all of which is only speculation!
German Gun Law
Germany continues to tighten its gun laws; in 2013 it established a federal weapons registry that keeps tight supervision over licenses for hunters and sport shooters including pychological suitability tests, proof of the need to own a weapon as well as weapons and munitions expertise. Minimum age for gun ownership is 18.
Latest figures show 1.9 million gun licenses issued to sporting shooters, hunters and collectors and only 6 million legally registered weapons in a country of over 80 million.
There is no automatic right to weapons ownership akin to Article Two in the US constitution. In Germany, a gun license can be withdrawn in the case of a criminal record or unsafe storage.
Residents have therefore resorted to obtaining the so-called "small arms license" that allows them to carry blank guns and pepper spray. In the first half of 2016, authorizations jumped 49 percent to 402,301 individuals, according to the Federal Statistics Office. This is still a very small number. It's not like Germans are able to defend themselves, which is why Petry is encouraging more to do so.

September elections
Regional elections are coming up in Mecklenburg-West Pomerania on Sept. 4th. It is Merkel's home constituency, a state currently led by a Social Democrat premier, where AfD is polling third among five parties.
On Sept. 18, Berlin city-state votes for mayor and interior minister.