Final: Nine dead in Munich shooting rampage by one Muslim man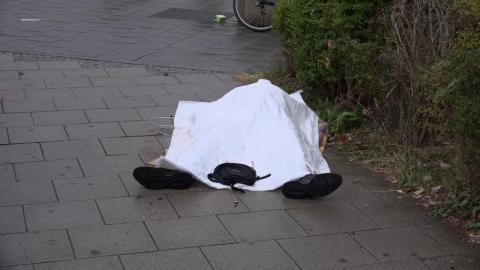 A body covered with a sheet lies on the sidewalk ouside the Olympic Mall in Munich, Germany on July 22, 2016.  (NONSTOP NEWS via AP)
---
It seems as if Donald Trump's acceptance speech last night at the RNC was not "too dark" in describing the situation in the West now -- as the liberal, pro-globalist news pundits have been saying. This event happened as if to underline and give credence to the Republican presidential nominee's world-view. Below is the story that came out around noon from the AFP news service. The updates are the latest information. -cy

Update 7-24: Munich prosecutor revealed that the teenager had spent two months in a closed psychiatric ward in 2015 and received treatment for social phobias and anxiety. Also, turns out that 6 (not 7) of the 9 victims were of non-German background.

Updates 7-23:  Greece's foreign ministry says a Greek man is among nine people shot dead by the gunman in Munich on Friday evening. Earlier, Turkey and Kosovo each confirmed that three of their nationals were killed.  [What? Seven of the nine are not German? -cy] Also, seven of the nine victims were teenagers!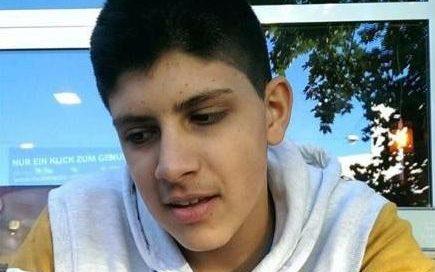 Bavaria's police chief Robert Heimberger says the attacker (shown at right), now named as David S. (full name is allegedly Ali David Sonboly), was born and grew up in Munich, where he also attended school. An acquaintance of the Munich attacker says that he was quiet and reserved with a normal family background.
Prosecutor's office said the gunman was in psychiatric and medical care for depression.
The murder weapon was an illegal 9mm caliber Glock pistol; there were 300 rounds of ammunition in his backpack. The serial number of the gun had been filed off. 
The comments by the German government officials are insipid and hypocritical in the extreme. Totally "Big Brother" and globalization claptrap -- never the slightest indication that multiculturalism can be a problem, let alone "the" problem. Just, "we send our thoughts and prayers to the victims' families" and "thank goodness it was not a terrorist attack but just a home-grown malcontent." They perpetrate mass psychosis.
Updates 7-22:
Police are now reporting that 9 people have been killed; 16 people are hospitalized, 3 in critical condition. The shooter acted alone and killed himself about a kilometer away from where he began his shooting spree. He was an 18-year old Iranian and had lived "over two years" in Germany. Naturally he was Muslim.
The incorrect idea of three shooters came from witness reports of two men in a car speeding away from the scene. They are now thought to have been fleeing the shooting. There were no long guns involved either.  
According to an eye witness, the shooter came out of the men's room in MacDonald's with the loaded pistol and started shooting at children eating in the restaurant as he shouted "Allahu Akbar". He was then on camera outside the restaurant shooting at pedestrians across the street. After that, or at some point, he was on a parking garage roof, and is also said to have been inside the mall. The police seem to have been put on the wrong track by the idea of three possible shooters.
My take: Because this sick Iranian was allowed to live in Germany (for what purpose?), 9 innocent Germans are dead in an hour's time, one being a 15 year-old girl. And the Government of Germany will make excuses for the killer while they make propaganda against "neo-nazis" who they have trouble proving killed 9 Turkish immigrants over the course of 7-8 years! [The so-called National Socialist Underground] This government is sick too.
In one report this now-dead murderer said he was born in Germany. If he was living here with his parents, I think they should be arrested and made to take responsibility for their 18-year old son's crimes. Or, the whole family should be deported back to where they came from, and if they are citizens, their citizenship should be revoked. Mass murder is not something that should be brushed aside.

* *
Munich (Germany) (AFP) - Several people were killed on Friday in a shooting rampage in a Munich shopping centre and the attacker or attackers are still at large, police said.
The Bild newspaper reported that a gunman ran through the mall near the Olympic stadium in the southern German city, firing on several people before fleeing in the direction of a nearby metro station.
"There are several dead and injured," a Munich police spokeswoman told AFP, adding that the shooting had started shortly before 1600 GMT at a McDonald's restaurant.
"The attacker, or several attackers, are apparently still at large."
Europe has been on alert for terrorism in the wake of a string of attacks including bombings in neighbouring France and Belgium.
The OEZ shopping centre was surrounded by armed police who were hunting for the attacker, while a helicopter flew overhead.
"There is a major police operation under way in the shopping centre," Munich police said on Twitter, urging people to avoid the area.
Emergency vehicles were seen in the streets outside, as shoppers rushed away from the mall, some carrying children in their arms.
"Attention -- avoid the neighbourhood around the OEZ. Stay in your homes. Leave the street," the Munich police tweet said.
Germany has so far escaped the kind of large-scale jihadist attacks seen in neighbouring France.
- Axe rampage -
But the shooting comes just days after a teenage asylum seeker went on a rampage with an axe and a knife on a regional train in Germany on Monday, injuring five people, two of them critically.
One victim is still fighting for his life, the hospital treating him said Friday.
Interior Minister Thomas de Maiziere said the teenager was believed to be a "lone wolf" attacker who appeared to have been "inspired" by the Islamic State group but was not a member of the jihadist network.
Authorities said he shouted "Allahu akbar" (God is greatest) three times as he ran through the carriage slashing passengers on the train near the southern city of Wuerzburg.
The attacker is believed to be either Afghan or Pakistani and investigators are still trying to determine his identity.
The train rampage triggered calls by politicians in Bavaria, of which Munich is the capital, to impose an upper limit on the number of refugees coming into the country.
The assailant had arrived as an unaccompanied minor in Germany in June 2015 and had been staying with a foster family in the region of the attack for the last two weeks.
A record 1.1 million migrants and refugees were let in to Germany last year, with Syrians making up the largest group followed by Afghans.
In the latest attack in France, 31-year-old Mohamed Lahouaiej Bouhlel used a truck to mow down 84 people, including children, in the Riviera city of Nice last week.
It was the third major attack on French soil in the past 18 months, after the jihadist carnage in Paris in November and the shootings at satirical magazine Charlie Hebdo and a kosher supermarket in January 2015.
In March, Islamic State-claimed suicide bomb attacks at Brussels airport and a city metro station left 32 people dead.
In May in Germany, a mentally unstable 27-year-old man carried out a knife attack on a regional train in the south of the country , killing one person and injuring three others.