Merkel's new Foreign Minister Heiko Maas: "I went into politics because of Auschwitz"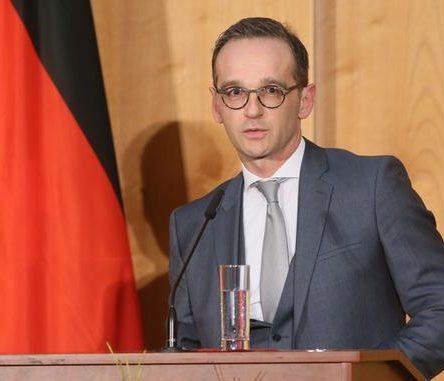 Heiko Maas wants to make a big splash as Germany's new foreign minister.
---
By Carolyn Yeager
STILL STUCK UNDER ANGELA MERKEL, GERMANY IS GOING FROM BAD TO WORSE. The only silver lining is that this new government is the weakest it's ever been. It may not last out the 3.5 years left to it.
The dearth of talent from which to form a cabinet is astonishing. The tired old faces have been pushed out (except for Merkel's), but the new ones are at best uninspiring. At worst, like with the the very slight and unimposing former justice minister Heiko Maas as the new Foreign Minister, it's hard not to laugh out loud. Where is the gravitas a foreign minister should have?
Maas is a solid leftist, a member of the SPD (Social Democratic Party), an outspoken enemy of populism and nationalism. He will toe the line of the Israel Lobby and of Germany's Jews. That's why he got the job in this time of anti-antisemitism laws being pushed in the West like never before. This has been the responsibility of the U.S. State Department up till now, but it has lately been less than enthusiastic about that burden. Maas may be expected to take up the slack.
He not only said in his inaugural speech today that Germany needed to take a stronger role – more responsibility in the world – he also said he would travel to Israel to mark the country's 70th anniversary of its founding, adding "Personally, the German-Israeli history isn't just one of historical responsibility, but it also represents a deep motivation in my political decision-making."
"I didn't go into politics out of respect for Willy Brandt or the peace movement. I went into politics because of Auschwitz."
A true believer, we have here. As Justice Minister, he pushed through a new law against "hate speech" on social media sites. He is likely to do the same on the international stage in his new role as foreign minister. In his speech, he divided the world into "those who advocate for openness and tolerance, and those seeking a return to nationalism."
Keep an eye on Heiko Maas – and not a friendly one.