Auschwitz Museum intrudes into political dispute, defending its brand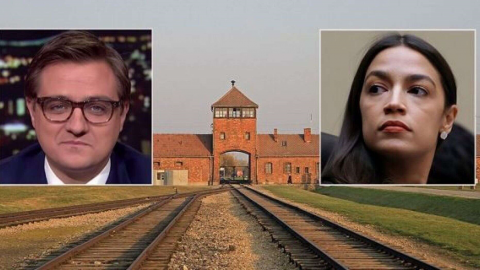 Auschwitz is one of the best-known brands in the world, and now it's showing its muscle on social media via controversial tweeting . On the left: MSNBC commentator Chris Hayes; right: Congresswoman Alexandria Ocasio-Cortez.
---
By Carolyn Yeager
HOW HAS IT COME TO THIS? Will there be more of it in our future?
A far-left, first-term democrat congresswoman from New York compares detention facilities for illegal border-crossers to concentration camps. Republicans and their Jewish allies immediately jump on her for taking the name of the Jewish holocaust in vain, especially big Israel-supporter Congresswoman Liz Cheney who accused Dem Alexandria Ocasio-Cortez of "evoking the extermintion of six million Jews" just to make a point about the treatment of migrants.
What Ocasio-Cortez had posted on Instagram on Monday, referring to the U.S. southern border, that brought on Cheney's rebuke was:
"The fact that concentration camps are now an institutionalized practice in the land of the free is extraordinarily disturbing." 
Far-left MSNBC commentator Chris Hayes replied to Cheney on Tuesday with this retort:
"If you spend a few minutes learning some actual history, you will find out that concentration camps are different from death camps and have a history that both predates and extends far past the Nazis."
I would agree with Hayes reference to history in this instance even though I am on the opposite extreme of the political spectrum from him. Cheney's knee-jerk use of the "six million Jews" calumny is prompted by her view that US and Israeli interests are one and the same. But it's reprehensible that the Auschwitz-Birkenau Museum in Poland jumped into the discussion and tweeted to Hayes:
"@chrislhayes Please consider following @AuschwitzMuseum where everyday we commemorate and educate about the tragic human history of #Auschwitz."
Well, I guess the Poles have decided to engage in more agressive self-promotion! The Auschwitz Memorial also sent a similar tweet to CNN reporter Andrew Kaczynski, who had declared the camp "a mixture of work and extermination camps." The Museum corrected him:
"The history of Auschwitz is far more complicated than this as it combined two functions: a concentration camp and from March 1942 an extermination center. See our online lesson."
How different is that from what Kaczynski said? Are we seeing a new level of the Holocaust Lobby's outreach, bringing it into our living rooms as though it's a normal aspect of every issue that comes up? This could be a new way to push it down our throats and into our guts that better circumvents our resistance. Every issue that arises will have its connection with the Jewish Holocaust in one way or another. Frightening.
Unless it bombs due to overexposure. That's another possibility.