Lenin statue in Karkiv toppled; why was it even there?
What was that about Eastern Ukraine being predominately Russian-speaking and hostile to Kiev? Didn't I recently read words to that effect from "Marcus Cicero" at The Daily Stormer? The Stormer position is that Kiev is a nest of oligarchic Jews wanting to drag "Russian Ukraine" into the European Union and the pro-Russian resistance "army" represents noble purposes. Well ...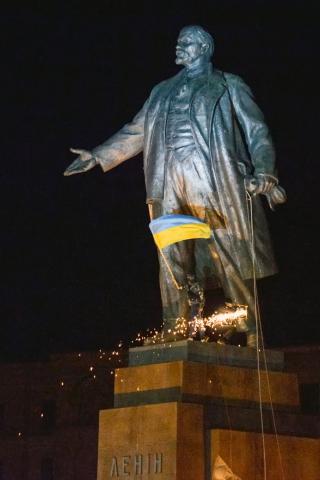 Ukrainian nationalists, one waving Ukraine's flag, start to tear down Lenin's statue on Kharkiv central square on September 28, 2014. (Sergey Bobok/AFP/Getty Images)
Sunday in Karkiv, Ukraine's second largest city which happens to be in the Eastern part of the country (see dot on map), a 28-foot statue of the Bolshevik quarter-Jew Vladimir Lenin--which had been standing in "Freedom Plaza" since 1963, protected and apparently revered by Russian-speaking Ukrainians--was pulled down and broken up by pro-Ukrainian Nationalists.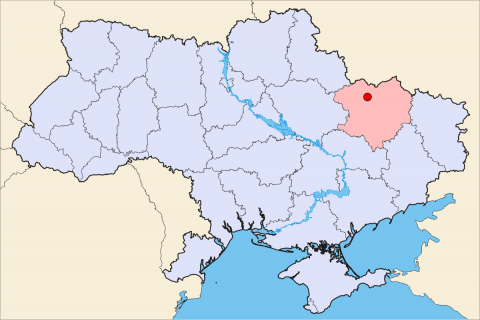 What to make of that? And by the way, why wasn't this event mentioned at DS?

Karkiv is not majority Russian-speaking. The 1989 census found that 50.38% of the population was Ukrainian, 43.63% Russian, 3% Jews. Interestingly, the Soviet census of 1959 came up with 48.4% Ukrainian, 40.4% Russian, 8.7% Jews, 2.5% other. Are Jews once again hiding their true identity, something they didn't bother to do during Soviet rule?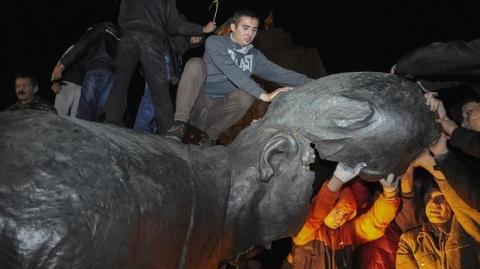 People jubilently display the fallen statue of Soviet state founder Vladimir Lenin after it was toppled by protesters during a rally organised by pro-Ukraine supporters in the centre of the eastern Ukrainian town of Kharkiv. Photo: Reuters
Kharkiv's statue of Lenin was one of the country's largest and had to be brought down by teams of people using ropes after cutting through an ankle of the massive bronze figure. A group of pro-Russian citizens attempted to stop the toppling of the statue, but the very large crowd, who recorded the felling with their smartphones and posted footage to Facebook, Twitter, and YouTube, ultimately prevailed.
Just think! The pro-Russian citizens LIKE the statue of the mass murderer Lenin dominating their main square. Why, I ask? I thought the Soviet Union was dead and discredited.
The demolition of the statue in Kharkiv is just the latest signal of hardening Ukrainian attitudes toward Moscow. Russia's March seizure of Ukraine's Crimean peninsula, followed by a bloody pro-Russian insurgency in eastern Ukraine's Donbass region, has damaged centuries-old affinities between Ukrainians and Russians.
"Lenin? Let him fall down. As long as nobody suffers under his weight. As long as this bloody Communist idol does not take more victims with it when it goes," wrote Ukrainian Interior Minister Arsen Avakov, who started his political career in Kharkiv, on his Facebook page on Monday. "I ordered the police to protect the people and not the idol."
Previous attempts by pro-Kiev protesters to pull down the statue had been repelled by pro-Russian activists. That changed Sunday, when thousands of angry protesters gathered at Kharkiv's vast Freedom Square with the intention of ridding their city of Lenin once and for all. After darkness fell, protesters chanting "glory to Ukraine" sawed through one of Lenin's bronze legs. Then they used cables to pull him off his pedestal.
The pedestal, made of red granite like that of Lenin's Tomb in Red Square in Moscow, made the entire monument 66 feet tall, and was said to be the tallest in Ukraine.
Kharkiv Mayor Gennady Kernes, who has straddled the pro-Kiev and pro-Russian camps, vowed Monday to rebuild the monument, saying that it had been "barbarically destroyed."
"We will restore the statue on Freedom Square by all means," he wrote on the city's website.
Again I ask, Why? Why do they want to continue to revere Lenin? It makes no sense to me and no one has yet been able to give it any sense. I understand that Lenin is part of Russian history, for better or for worse, but to retain giant statues of him on main city squares??
Other important memorials to be found in Karkiv include: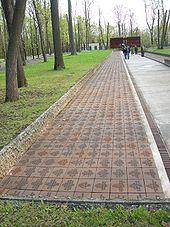 Memorial to the thousands of Polish officers executed by the NKVD in Kharkiv as part of the Katyn massacre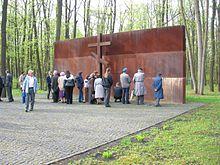 Memorial to the thousands of Ukrainian intellectuals murdered by the NKVD in 1937–38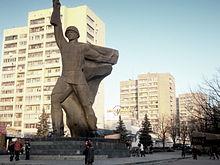 Memorial to 23 August 1943, the end of German occupation during World War II (Here we have the glorious Red Army soldier)
This story was compiled from various news sources -cy