Ronald Lauder warns of new catastrophe for Jews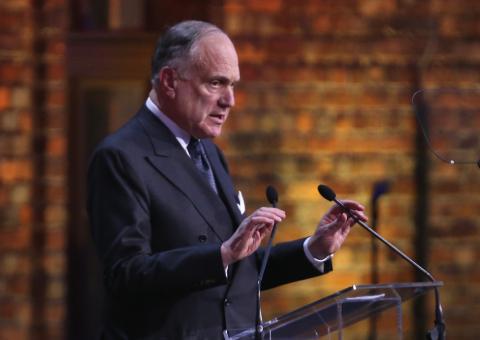 Ronald Lauder, President of the World Jewish Congress (WJC), used an angry tone to demand protection of Jews from the assembled guests at the 70th Anniversary ceremony at the Auschwitz-Birkenau Museum on Jan. 27.
By Carolyn Yeager
Ronald Lauder is a man who is used to telling other people what to do.
In his speech on Tuesday at the Auschwitz-Birkenau 70th anniversary ceremony, he told the assembled Jews to force their governments to protect them from antisemitism because "antisemitism leads to places like Auschwitz." Note he didn't tell Jews to protect themselves, but that their governments must do it for them.

He also told the world what it must do – "All countries must make hate a crime."
But Lauder didn't even try to explain the cause of antisemitism. He said, "For 70 years, no one can explain Auschwitz." He said Jews are hated "because they're Jews." Well, that's a start. There's something about Jews that others don't like. What could it be?
Lauder used his speech to blame everyone but Jews. He said "the Nazis designed the Holocaust, but there was complicity from almost every country in Europe." (This brought on applause)
He wondered how it was that antisemitism and what he called the "demonization of Jews" had come back after WWII & the Shoah had made it virtually impossible to criticize Jews. His answer to that: "The creation of the world's only Jewish state became a new opportunity to attack Israel."
Lauder's three errors

Lauder made some incorrect statements in his speech. He is right at home with the "survivors" and their crazy stories – he and Steven Spielberg, whose film "Auschwitz" that was shown during the ceremony is full of errors and downright lies. Lauder said flat out that "438,000 Hungarian Jews were gassed by the Nazis in Auschwitz." This is an old claim that has never held up. For example Michael Berenbaum wrote in a book sold at the Auschwitz-Birkenau Museum:
Between May 14 and July 8, 1944, 437,402 Jews from fifty-five Hungarian localities were deported to Auschwitz in 147 trains. Most were gassed at Birkenau soon after they arrived. The railroad system was stretched to its limits to keep up with the demand of the camp, where as many as 12,000 people a day were being gassed. 
According to Francizek Piper, former head historian at the Auschwitz-Birkenau Museum:
The majority of the Hungarian Jews who were sent to Auschwitz-Birkenau, were gassed immediately.
A booklet put out by the Museum stated that 434,351 of the Hungarian Jews were gassed upon arrival. This means that only 3,000 Hungarian Jews were ever registered in the camp. However, Piper wrote that 28,000 were registered. [This paragraph taken from here]

Not considered in these outlandish claims is the fact that the deportation of Hungarian Jews took place between May 14 and July 8, 1944 – less than two months! If Jews were gassed immediately, the facilities, resources and personnel at Birkenau would have been totally inadequate to dispose of all these bodies, which amazingly left not a trace that anyone has ever been able to find. This gigantic problem in the theory is never answered in any of the holocaust literature; instead they throw these big figures around without a care for REALITY. But reality has to come into the account sometime, somewhere. This is why Ronald Lauder and his friend Steven Spielberg are irresponsible fantasists and, let's call it as it is, irresponsible liars. Lauder's claim of 438,000 Hungarian Jews gassed at Birkenau has never been accepted by critical thinking minds.
Another error he makes is in saying "For 70 years, no one can explain Auschwitz." Many people have "explained Auschwitz", even I can do it, but the explanation does not jive with the Jews' fantasy stories, so they will not accept it.
A third error is to say that antisemitism leads to Auschwitz. No, it doesn't, it leads to Jews not being welcome in countries of Europe or elsewhere that don't want them there. If they are not there, they can't be put into an internment camp, can they? They have the option of Israel, the land they fought so determinedly to have as their homeland. The great  injustice of people like Lauder and Spielberg is to deny Europeans the fundamental right of "freedom of association" by awarding Jews the right to enter and live anywhere they want - in some cases, it has even been in European's own houses!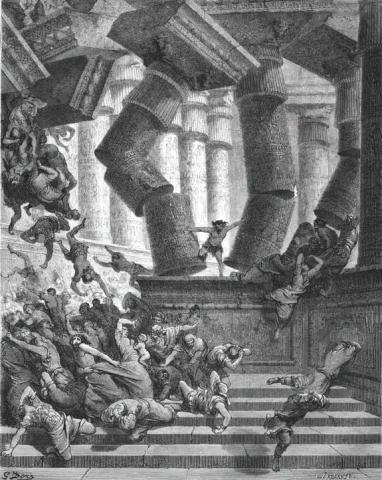 Sampson, in the Temple of Dagon, destroying his enemies, and himself
The Jews bottom line is fearsome
Consider the sight of this gathering of Presidents, Kings and Princes, and assorted government ministers, respectfully and patiently listening to a bunch of Jews scolding them for allowing harm to come to theirselves and their brethren , then marching out into the bitter cold and dark to place candles at a monument honoring the imaginary Jewish dead. Why do they do it? Is it because their hearts are burdened with the injustice done to Jews? It cannot be! No, that cannot be the reason. What is it then?
It has occurred to me that Europe is being blackmailed with a version of the Samson Option, which goes like this: If Jews are thrown out of any country in Europe, Israel is not beyond nuking Europe on the grounds that this would amount to another Holocaust for Jews. [After all, the Shoah is really only about deportation, nothing else.] Another Jewish holocaust is inadmissible and unthinkable, and also can be prevented by the united forces of Europe (EU), they reason ... therefore Jews have the right to retaliate as if their very existence were threatened. This can explain the meek attitude of every European head of state when it comes to the Jews. I think it explains it better than anything else.
Lauder's words at the end of his speech carried a threatening tone:
Do not let this happen again.

Do not let this happen again.
Or else?