Another revisionist sentenced to prison in Germany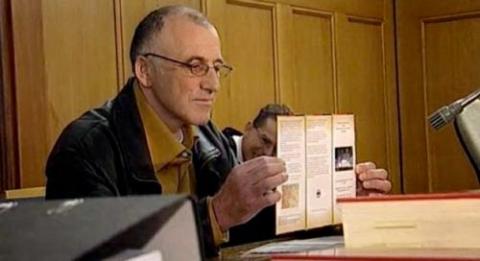 Gerhard Ittner presents a document to the court during his trial in Nuremberg-Fuerth, Germany.
Just to let you know that Gerhard Ittner, 57, an exceptionally good and brave man, a real straight-arrow, has been sentenced in a Nuremberg court to 1 and 1/2 years in prison. He has been held in detention for quite awhile leading up to and during this trial, and has already spent a total of three and a half years in prison. Now he will spend another 18 months. For what?
On Tuesday, Nov. 17 he was found guilty of "incitement [of the masses] and disparaging the state and it's symbols." Hmmm. The German legal system can't tolerate such things. It would collapse if it did.
In 2003 Ittner caused a nationwide stir when he organzied a right-wing gathering near the former National-Socialist rally grounds in Nuremberg. He announced that he was planning additional protests there. In 2005 he was sentenced to two years, nine months in prison because of his protests. He fled Germany and went to Portugal.
After a time, the FRG issued a European Arrest Warrant for Ittner, which must be honored Europe-wide, and Ittner says he decided to risk arrest for the chance to bring his case to the European Court of Human Rights. He began writing again under a nom de plume, knowing he would sooner or later be discovered.
And so he was. In 2012, in Portugal, police found him to be distributing propaganda material via the internet. He was extradited to Germany and has since been in custody. I don't think he was able to bring his case to the European court.

On November 17, 2015 he sent out an email that said:

Kein Zurückweichen vor der Repression – immer vorwärts für Meinungsfreiheit und Wahrheit!
Die Lüge, welche die Welt erstickt, muß fallen!

No retreat when facing repression – always forward for freedom of opinion and the truth!
The lie which suffocates the world must fall!
Amen.
See also:
http://carolynyeager.net/gerhard-ittner-may-seek-justice-un-human-rights-committee
http://carolynyeager.net/letter-political-prisoner-gerhard-ittner