Sad that PEGIDA Dresden has nothing to say on this year's 71st anniversary of the Allied War Crime against their city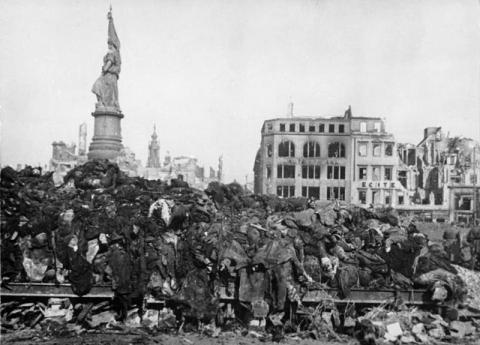 Dresden, February 15, 1945. One of many funeral pyres of holocausted German bodies piled up on steel rails before being set on fire. Pictures like this have been used by Jews, falsely depicting them as Jewish holocaust victims.
Shame, shame, shame on all those who fail to remember the suffering of their own parents and grandparent, cousins, aunts and uncles in their own city because of "Political Correctness" and fear of being seen as in any way supporting "the Nazis."
The city officials have cancelled all commemoration events for this year. For the first time the city has entirely dispensed with its own event, a memorial service in Heide cemetery where just some of the hundred thousand bomb victims are buried.
According to www.welt.de, only the human chain [which celebrates the English and American bombing!] will be maintained. From the Town Hall came the announcement that the day should be increasingly used "to promote peace, democracy and human rights". The "human rights" is a jab against the Hitler regime that is popularly seen as denying human rights.
Yet, the bombing of Dresden on Feb. 13th and 14th, 1945 was the greatest war crime and the true holocaust of WWII. It has always been whitewashed for that reason.
Can the fear-based new authoritarianism of this Federal Republic continue to take the Germanness out of Germans? The Dresden City Hall and newly elected mayor Dirk Hilbert say they want Dresden to become "A symbol of humanity and respect for the other," and the human chain to be "a sign that we are an open society ... and they join hands, regardless of where the individual is coming from, what color he is or religion he belongs to."
The officials patronizingly add that of course "every Dresdner and each grouping [left and right] are still free to come to the Heide cemetery on their own initiative".
Will the people of Dresden accept this quietly? Can they forget the 100 thousand innocent civilians who were truly holocausted on this day by an enemy who was transformed afterward into a friend and even savior? Can every evil continue to be blamed on the National Socialist regime of Adolf Hitler ... when the truth about the war is actually known (but censored in Germany)?
I don't think so. I think the ruling post-war regime in Europe is on its last legs.
Below, total destruction of Dresden shown in this partial view of its irreplaceable central city. Rebuilding does not replace what you had. Did the vile Americans and British suffer anything like this? Not at all. For more on British collusion in criminality, see here.