Frauke Petry sues Compact magazine over report she instigated Höcke expulsion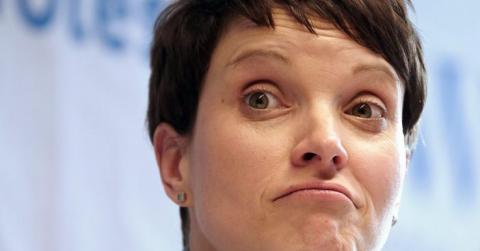 AfD party chairman Frauke Petry
---
By Carolyn Yeager
CALLED A SCANDAL by Compact, the AfD party chairman has turned to legal means to stop the magazine from using this sentence I quoted in a prior post:
"The decision fell with 9: 4 votes at the request of Frauke Petry."
The sentence refers to the party's federal executive committee's termination procedure against Björn Höcke just a few days ago. Petry's attorney is asking for damages of 20,000 euros, as best I can determine.
Compact, self-described as the "strongest opposition newspaper in the country," says they will not retract the statement and they consider the demand an "indecent interference in the freedom of our reporting and commenting."
Compact writes, "It is completely uncontestable that you were and are the driving force behind the party suits against Björn Höcke." The magazine also wrote,
We are, although not a party, always fair with the AfD and even presented you [Petry] as "The better chancellor" in March 2016 on our cover - at a time when we had very much criticism of it's leadership. We did it not for your sake, but out of loyalty to the AfD, to which many dissatisfied [voters] have set their hopes.
But loyalty to the party is not enough for you. You obviously want a kind of court report, which [bends] to you and your husband's will. This is a monarchist understanding of freedom of the press on the motto: whoever is against Petry and Pretzell is mobbed and, if necessary, muzzled. This places your person above the party and the people. [...]
That you want to throw Björn Höcke and his supporters from the AfD is a serious mistake. It not only harms the party but the entire opposition in the country - while the block parties are laughing. COMPACT will not stop criticizing this split policy.

We ask our readers and friends: Support our legal defense against Frauke Petry. After declining the waiver, it will probably come to a trial.
This is an unfortunate turn of events. In addition, apparently, Marcus Pretzell, newly married to Petry, excluded COMPACT magazine from the large event with Le Pen, Wilders and other top European politicians on 21 January in Koblenz. Pretzell is Jewish, and Jews are espeicially vehement in their rejection of Björn Höcke. I don't see how the AfD can cater to the Jews and still do right for the German people. Stay tuned ...