Friedrich Paul Berg gives an opinion on the VW emissions "scandal"
 VW Diesel Hoax?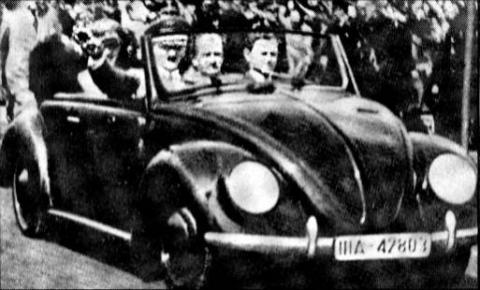 by Friedrich Paul Berg - Wed Sept 23, 2015

I seriously doubt that the accusations currently so popular about VW diesels are valid. The bosses at VW are, however, more than intimidated by all of the media hoopla and are simply caving in for fear of being the "bad Germans" once again. I could be wrong, of course--but I think the furor has far more to do with the revival of anti-German racist holocaust propaganda than with any real technical problems inherent at VW. The VW execs are trying to get out in front of the media storm by caving in and admitting guilt, blah-blah-blah--and denying nothing at all even if it means the very future of their entire company--which was, of course, created by the "great Old Man" himself before WW2.
The alleged "defeat device" in the 2008 and later VW diesels supposedly was turned ON during testing, but OFF during normal driving. Well, what does that really mean and specifically what was turned ON, or OFF? Was there a urea tank somewhere in the car which introduced urea liquid to make the cars pass when the testing was in progress? There is nothing like that in those VWs at all--so, that could not possibly have been involved. So, what was done? I have read several articles claiming to explain the deception but they contained ONLY the vaguest generalities. What was really done, specifically.

Was the fuel/air ratio range manipulated? This would have certainly been possible, and easily enough--but rigorous testing with brake dynamometers should have revealed this as well in almost any testing lab. My guess is that the testers from West Virginia simply did not do their testing properly. They made wild guesses whereas in Germany, the same model cars were tested far more accurately. The WV testers used ONLY two cars according to their own stories.

One of the advantages of lab testing is that one can "stabilize" the operating conditions before taking data. During actual driving, however, "stability" is almost non-existent due to the various driving conditions encountered, especially on America's generally crappy roads and highways---and that is precisely when one can get momentary readings that are NOT truly representaive of the car's performance as a whole. Experienced testers generally know this all too well as they look at readings that bounce all over the place during "unstable" momentary driving conditions; that is why standardized lab testing is so essential.

Perhaps we can all learn a lot about diesels which until about 2008 were also blamed for the killing of about two million Jews in the so-called HOLOCAUST--and that stupid but extremely dirty hoax is still out there. We can also learn how media hype can drive people to believe the stupidest things imaginable.