Jewish man with gun threatens Black councilwoman over Holocaust museum comments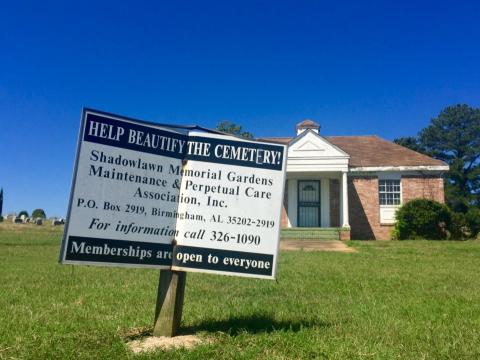 The sign reads "Help Beautify the Cemetery" at the oldest African-Amercian cemetery in Birmingham, Alabama.
---
JEWS CLAIM A PRIVILEGE BASED ON THE JEWISH HOLOCAUST LIE, to the point that they demand laws and prison sentences for those who publicly question or state disbelief in their version of Jewish history. Some Jews go to extreme lengths of threatening to kill, of killing, of burning and bombing commercial buildings and residences. For some reason, they get away with all this.
In our insane Jew-worshiping society, these Jews are usually not even sought by police nor are investigations or prosecutions carried out against them.
Case in point: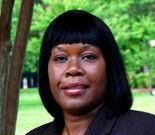 Birmingham City Councilwoman Sheila Tyson (right) made the following report to the Birmingham police department on Tuesday, July 12 at 5:37 p.m.
"This statement is as a result of an incident that happened to me on Saturday, July 9th, after 2 p.m. I was leaving the Birmingham Zoo when a car pulled up on the side of me on my left. The driver of the car then asked me if my name was Birmingham City Councilor Sheila Tyson and proceeded to say, '(Expletive), I will blow your (expletive) brains out for talking about my Jewish ancestors.'
He then picked up an object from his right and started leaning over to the window. When his hand came up, I noticed the object was a handgun. I didn't really pay attention to the color of the vehicle at that moment, I took off in my car.
As of today, everything after that is still a blur and I still fear for my safety. As I reflect what happened to the officers in Dallas, my safety now is my Number One concern."
She also shared with police threatening emails she had received and said she had also received threatening phone calls.
What could Sheila Tyson have done to arouse such anger in this man that he would threaten her life?
This: In June, in her job as councilwoman, she had criticized plans by the city to chip in on a privately funded Holocaust memorial in downtown Birmingham after her request for the city to give money to Shadowlawn Cemetery, an old African-American cemetery that had fallen into disrepair, was denied (apparently on the grounds the cemetery contained dead people who couldn't care how it looked).
"Dead is dead" Tyson was quoted in the local newspaper as saying about the museum project. "Isn't it still for dead people? It is for dead people. Aren't the people they are memorializing deceased?"
City lawyer Thomas Bentley replied: "I'm not sure I have the vocabulary or explanatory power to indicate the distinction although it's clear to me from a legal standpoint that there is a distinction." [It is not clear to me, and if it is clear to him he should be able to explain it -cy] He went on to say Shadow Lawn is a private entity, while the Holocaust memorial is a public expression of the city's remembrance.
Hmm. They're trying to make it public, he should say. The planners are trying to make what began as a private project into a city project.
According to the website al.com, the "Birmingham Holocaust Education Center" plans to raise about $500,000 to build [what they call] the park, alongside a 9/11 memorial near McWane Center in downtown Birmingham. Birmingham's contribution would be to remove existing structures, at a cost of $45,500.
Apart from the legitimate question of what Birmingham, Alabama has to do with the "Holocaust", and vice versa, there is the reality that if the planners can raise half a million, they can certainly raise an additional $45,500 to clear the property. I would say they are wanting to involve the city as a partner in the museum, so that, as with the US Holocaust Memorial Museum in Washington DC, it is perceived as a public institution rather than the private undertaking that it is. They want the public to believe it is their duty to support it. And they want schoolchildren from all around the area to visit the museum yearly!
Another thing, we know that American Jews control huge amounts of money in this country and are willing to contribute generously to Jewish causes – which they can deduct from their income taxes.
Unfortunately, Councilwoman Tyson was intimidated by the man with the gun and the hate messages, and wrote later on Facebook that she was misunderstood and mis-reported, that she "supports the use of public funds for the Holocaust memorial." But she thinks the cemetery should be funded too. The gun-wielding thug will go scot-free because she is unable to identify either the man or the car.
And so it goes in the modern-day USA. A rigged system for sure.