Jews and their lies
By Carolyn Yeager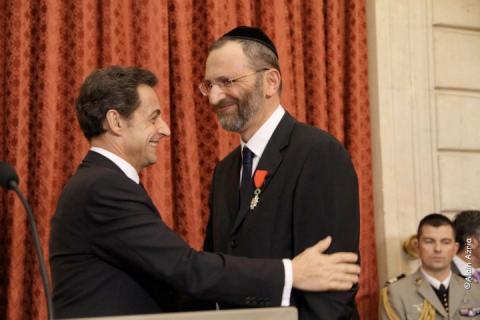 Just recently, the Chief Rabbi of France, Gilles Bernheim, has admitted to plagiary and lying about it.
He is a 60 year-old "trained philosopher" who was elected in 2008 as the religious leader of the third-largest Jewish community in the world, numbering approximately 600,000. (Note the two symbolic sixes in the foregoing.) At issue were several parts of his book Forty Jewish Meditations that were found to be taken from other sources.
Right: Bernheim with former French President Nicolas Sarkozy, also a Jew, awarding him the Legion of Honor in 2010. Sarkozy said twice that Bernheim is an "agrégé de philosophie," a very competitive academic distinction in France. Bernheim did not contradict him.
The plagiarizing is one thing; the trail of lies this flawed man came up with to deny it is the real scandal. Just last December, Pope Benedict XVI quoted from a recent essay by Bernheim on same-sex marriage; now there are charges that parts of that essay, too, were similar to the work of others. On Monday, a French Web site, Archeology of Cut and Paste, accused the rabbi of using passages in his essay that were close to those in a book by a priest, the Rev. Joseph-Marie Verlinde. No wonder the Pope liked it!
The exposure of the plagiarism started in March (last month) when a website named Strass de la philosophie discovered similarities between Bernheim's work and an interview of the philosopher Jean-François Lyotard in the 1996 book Questioning Judaism by Elizabeth Weber.
A few days later, in a childish, yet cynical attempt to cover for himself, Bernheim answered by saying that some of the meditations in the books were transcripts of lessons he gave in the 1980s, as a chaplain for Jewish students, and that these lessons were often recorded while copies of his personal notes were handed to pupils – thus implying that Lyotard, who died in 1998, plagiarized him, and not the opposite.
Continue reading at Elie Wiesel Cons The World