Jews get most money from federal security grants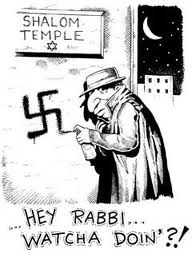 From an article in The Jewish Daily Forward, Sept. 2011:

The Akiba-Schechter Jewish Day School, in Chicago, put in new lights around its building and parking lot and now has a state-of-the-art video surveillance system with 12 cameras. Congregation Brith Shalom, in Bellaire, Texas, now has blast-proof doors and windows. In Baltimore, the Bais Hamedrash & Mesivta school installed a new gate to the parking lot and placed cameras throughout the building. Earlier this month, Congregation B'nai Israel of Staten Island put new shatterproof windows into its 40-year-old building.

All thanks to the United States taxpayer.

Since 2005, the Nonprofit Security Grant Program administered by the U.S. Department of Homeland Security has provided $118 million to not-for-profit organizations to become better prepared for a terror attack.
Do you, as a Gentile, know about this program? Do Gentile organizations pay attention to what the government is handing out? Apparently not, or not much. The article goes on to say:
"The grants have been of tremendous value to this community.1 It is really unprecedented," said Paul Goldenberg, national director of Secure Community Network, an organization established in 2005 to address potential communal security threats.

There's good reason for the Jewish community to be proud. A Forward analysis of the 995 grants distributed through the national program from 2007 to 2010 found that 734, or 73.7%, went to Jewish organizations. DHS announced its grants for 2011 in late August, and here, too, Jewish groups were the big winners, with 81% of those awards.

This disproportionate distribution is no accident. Examining the grants program provides a window into Jewish organizational and political power. It is this power that allowed a small community to create and maintain a government program tailored specifically for its needs and catering almost exclusively to its members.

[...]

The legislation and the rules defining eligibility make no mention of preferring Jewish institutions, but in practice the program could easily be viewed as a Jewish earmark.

First, religious institutions are preferred over other not-for-profits. This policy is tucked into DHS's official rules for evaluating grant applications. Each organization applying receives a score based on the merits of its request. Then the score of a "non-profit organization with religious affiliation" is multiplied by three, giving it a significant advantage over other applicants.

Second, high-risk metropolitan areas are given top priority in the grant process, and those "tier 1" cities — New York, Washington, Houston, Chicago and Los Angeles — have a heavy concentration of Jews. A second tier consists of cities that face less of a risk of terror attacks, including Miami, Boston and Dallas. Philadelphia had been in that second group, but was moved to tier 1 in 2010. Lobbyists are now working for the inclusion of Rockland County, N.Y., because it is home to a dense ultra-Orthodox population.

Third, an ambiguous definition of what constitutes a terror threat has enabled many Jewish institutions to make a stronger case than non-Jewish counterparts. The criteria established by Congress and DHS requires not-for-profits to demonstrate that they "or closely related organizations (within or outside the U.S.)" have been subjected to prior threats or attacks by a terrorist network. Taking into account incidents overseas allows Jewish groups to describe their threat level regardless of what is happening in their own communities.
Several Chabad synagogues contacted by the Forward mentioned the November 2008 attack against the Chabad house in Mumbai, India, as proof of their vulnerability. Other applicants pointed to terror attacks against Jewish targets in Israel as justification for the government funding. For example, a vulnerability assessment prepared for Brooklyn's Yeshivat Mikdash Melech by an expert at the John Jay College of Criminal Justice and submitted with its applications reads, "The core religious beliefs of the organization's membership and their direct support for Jewish and Israeli causes invites continued threats." Other filings obtained by the Forward also point to support for Israel as a source of threat.