Khizr Khan not an authority on the US Constitution, merely loves and exploits the 14th Amendment
Khizr Khan holds up a pocket constitution during his speech to the Democrat National Convention in July, a move he admits he practiced beforehand to get just right.
---
By Carolyn Yeager
ACCORDING TO A REPORT at Brietbart News, the media have implied that Khan practiced law while working at the law firm of Hogan & Hartson in Washington. But that is not true.
Instead, he managed information technology services, or IT, for litigators during his 1998-2007 employment at the Hogan & Hartson firm (now Hogan Lovells), a predominantly Democrat shop with ties to the Clinton Foundation. His job apparently involved pre-wiring the projectors, monitors and laptops, and video conferencing equipment for lawyers making graphic presentations in court. He also helped lawyers search and managed electronically stored records.
After leaving Hogan & Hartson, Khan opened what he described on his business website as a "law office" in New York to, among other things, represent clients seeking E2 and EB5 immigration visas — a practice that Trump's proposed moratorium on Muslim immigration would throw into jeopardy.
The Breitbart article goes on to detail Mr. Khan's true professional standing, which is nothing like what the lying media led us to believe.
A résumé posted on his website (removed from the Internet last week) lists court admission and bar membership for New York state only.
A spokeswoman for the New York State Office of Court Administration in Albany, N.Y., said that Khan was admitted to the New York bar on June 22, 2010, which means he became eligible to practice law just six years ago — at the age of 60. He is not listed as a member of any other state bar.
No citations appear in court databases for Khan as attorney of record, based on a search of federal and state court filings through PACER and Lexis.
Nor does Khan appear to have published academic papers or law journal articles about constitutional law. In contrast, Khan's academic papers touting Sharia law have been cited in dozens of Islamic law articles and have been used in college syllabi for Islamic law courses as recently as 2013.
Sharia law, the barbaric legal code enforced by Saudi Arabia, Iran, and the former Taliban government of Afghanistan, is at odds with most of the individual freedoms and rights protected by the U.S. Constitution.
Other media outlets, such as the Washington Post, have been keen to point out that Khan is "a Harvard-trained lawyer."
While Khan did graduate from Harvard in 1986, he did not obtain a typical law degree, but instead earned an LL. M. — a one-year international program tailored to foreign students. He has a similar degree from the University of Missouri-Kansas City. The LL. M. coursework is separate from the three-year law program required to earn a Juris Doctor, or J.D., which is the formal law degree that most licensed attorneys obtain.
"It is most often pursued by students who obtained a law degree in another country," explained Harvard Law School spokeswoman Michelle Deakin in an interview.
In fact, 97% of students enrolled in the graduate program that accepted Khan are foreign nationals.
After leaving his [IT] job at Hogan and Hartwell, Khan opened a private law office in New York, the website for which he has recently removed from the Internet. Now that his appearances on television news shows have put him in the political limelight:
Democrats are now actively recruiting Khan to run for political office [in Virginia] and appear in Clinton campaign ads attacking Trump and his policies. They hope to exploit the media-manufactured narrative that it took a Muslim immigrant-turned-"Harvard-trained lawyer" to school Donald Trump on the U.S. Constitution and put him in his place.
I don't know who is going to fall for such an obvious political ploy which could so very easily backfire. Khan's many writings on Sharia, published in prestigious Islamic journals, show his clear devotion to Islam in all its manifestations. His private law firm serves foreign Muslims who want to immigrate, temporarily or permanently, to the USA where the Fourteenth Amendment to the Constitution guarantees them the same protections as those whose families have been here for 20 generations. What a deal! Khan said to Chris Matthews on his cable television program:
K. KHAN: It's marked up [his pocket constitution] because I read it. And this 14th Amendment, equal protection of law, is my favorite part of the Bill of Rights.
MATTHEWS: That means that your children…
K. KHAN: Exactly.
MATTHEWS: … get all the rights of somebody who`s been here 20
generations.
K. KHAN: Exactly. And I did not realize up until I was in the cab to the convention that I had this in my pocket. We talked – I was to say that when you read the Constitution, look for the word liberty and equal protection of law. So I`m putting my coat on, and I touched this, and here it is. So I said, If I pull it like this, it will be this. So I had to place it in this form so when I pull it, it comes like this. We practiced.
Good luck to Mr. Khan. The more attention on his background, the better, because ...
An honest Muslim in UK admits Islam demands Sharia will rule world-wide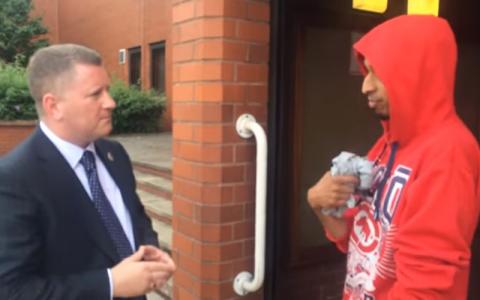 Those who have been taken in by Khizr Khan should read the short interview of an "honest Muslim" by UK Britain First leader Paul Golding (above) published at The New Observer.
The unnamed Muslim approached Britain First leader Paul Golding and told him that his statements that Muslims wanted to take over the country were perfectly correct and in line with what was stated in Islam's holy book, the Quran.
"He was very polite and respectful, did not show hostility, but declared in no uncertain terms the way most Muslims feel about our country," Britain First said in its description in the 2:17 minute video.
"I just simply said to Paul that yeah, this is definitely true. It is in our religion that Sharia law will take over the whole world. So when he [Golding] says this, it is not wrong.
"We want this, we believe this. We've come here to provide [this and] live under our own law in someone else's country.
"You were born here, you like the way people are living now, [but] it's not going to stay like that."
"In Islam, in the religion, it says that Sharia will take over the whole world, eventually.
"As Muslims, if we believe this part, and that part [of the Quran], we are obviously going to believe in that part as well, it's not pick and choose, we believe in all of it."
Golding then asks him if he believes that the United Kingdom will eventually become a Muslim Sharia state.
"One hundred billion percent," the Muslim answers. "Definitely, I don't want nothing more than that," he continues.
"All I can say is, just sit back and watch the show, and enjoy it, because it's gonna happen."
As Donald Trump says: How stupid are we?
But it's not stupidity, it's programming. Don't let the Democrats and Media force this on us, on the US. Vote smart, vote right.