Monika & Alfred Schaefer trial underway in Munich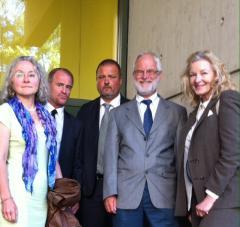 Left: First day of the trial. Attorney Sylvia Stolz (adviser); Attorney Wolfram Nahrath (Monika Schaefer's counsel); Attorney Frank Miksch (Alfred's counsel); Alfred Schaefer (Defendant); Lady Renouf (observer). Photo courtesy Lady Renouf.
---
By Carolyn Yeager
I HAVE RECEIVED SOME PERSONAL ACCOUNTS since yesterday, which I'm following with great interest as there is not any kind of reporting at all in the mainstream media. The Federal Republic of Germany doesn't like to advertise the many 'neo-nazi' and 'holocaust denial' trials it has going on all the time in "the freest Germany ever!"
Since others are sending out these reports by observers like Lady Michele Renouf, making them available to the general interested public, I will not carry them here. But when the so-called 'trial' is over, or if something especially dramatic occurs, I'll write about it, too.
The Merkel government is being hit hard right now by the forces that are fed up with third world migration into Germany and Europe. It may not survive, which would be a cause for celebration. I wait and watch, knowing that everything is possible.
Day 3
Since both Alfred and Sylvia Stolz "offended the court" on Monday, they were retained in custody overnight Tuesday (not in a jail cell, I don't think), but released on Wednesday afternoon. Wednesday a.m., Monika related stories of their "family dynamics" that contributed to their current beliefs and determinations; in the afternoon, Alfred confirmed her statements and added his own. Alfred's aggressive plan seems to be to charge the goverment and its legal system with something like treason ... at least, with being unrepresentative and unconstitutional. He wants to bring it all down as illegitimate, and Monika is going along with him. This is how it appears to me. So after the court session on Wednesday, the group met at a beer garden and Sylvia and Alfred were surprised and glad to greet one another again. Picture below courtesy Lady Renouf.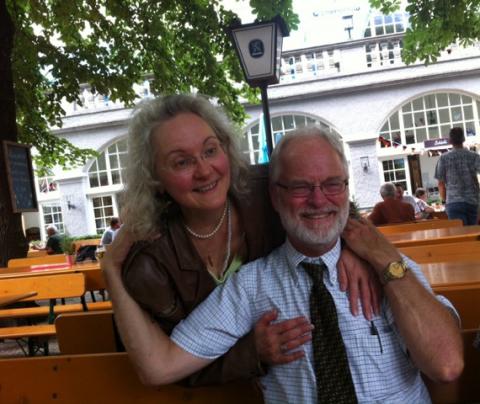 Day 4
The court is taking a one-week recess after Thursday's court session until July 12. However, on Thursday afternoon, police showed up at Alfred's home and arrested him again for unknown reasons, possibly for something he said earlier in court. So Alfred is once again in a jail cell for the weekend, as his sister Monika remains in her own cell.
Alfred's wife was preparing lunch when the police arrived, so she managed to hand one of the officers a cheese sandwich for her husband. It must be hard to bring up the patience this kind of thing requires. Kudos to all.