Pegida Dresden rally today in the Neumarket Square - watch live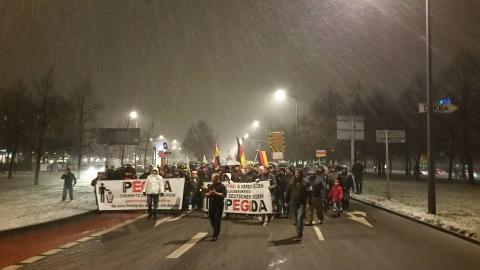 It was raining snow during the entire demo; in the second half, after the walk, umbrellas were covered with white snow. Nevertheless, it was a very long march line.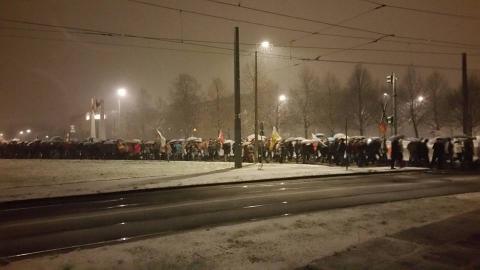 Livestream: https://www.youtube.com/watch?v=Hb6g3nYcQc8
For pictures and coverage: https://www.facebook.com/pegidaevdresden
I won't be able to translate the timeline of events today. But I will give just a brief outline. Feel free to write comments about it on your own.  More>
6:30  There is sleet in Dresden. It is very cold.
Lutz is back!
6:45  Lutz Bachmann opened the rally. He talked about the FAZ [Frankfurt leading newspaper] attack on the state of Saxony as the "eyesore of Germany" because of attacks on refugees and on housing intended for them. He filed a sedition lawsuit against the newspaper in the name of the people of Saxony who are being defamed.
He said his health was not the best after 17 months of continuous Pegida activism. He spoke of the lawsuit the Federal Government is bringing against him for sedition, which should go to court in April. He said attacks were mostly directed at him and Tatjana Festerling, who was absent from today's rally.
Bachmann advised the Pegidan to stay away from demonstrations near refugee housing, and to refuse to engage with radical persons or activities which they must assume are led by the intelligence services. Especially between now and the three state elections on March 17th. He said Pegida has been and will remain a peaceful movement.

Other speakers were a Christian Egyptian man, Bobina, and Siegfried Däbritz.
Däbritz announced that there would be no Pegida rally in Dresden next Monday, but that they would support "the friends in Leipzig" [LEGIDA]. I think that is smart. We know the Dresdeners always show up, but the other cities have a long way to go to match the Dresden turnout. The movement must become stronger nationwide.
Read: http://www.dw.com/en/migrants-attempt-to-break-through-greece-macedonia-border/a-19081936

http://news.yahoo.com/tear-gas-fired-greece-macedonia-border-berlin-slams-113604422.html
http://www.dw.com/en/merkel-i-have-no-plan-b-on-migrant-crisis-strategy/a-19081119