Pegida goes to Leipzig today - Watch Livestream
Livestream:  https://www.youtube.com/watch?v=TMbX2oLxxvE
RT coverage: https://www.youtube.com/watch?v=nShF-YQaELA
First Anniversary Birthday celebration for LEGIDA today!
Dresden PEGIDA will be in Leipzig to help them celebrate. No demonstration in Dresden today.
Leipzig Antifa and pro-refugee groups are very extreme and mean. They will be out in force. Remember the riot they caused on December 12, 2015.
Scheduled speakers: Markus Johnke, Tatjana Festerling, Lutz Bachmann, Siegfried Däbritz, the Swiss Edigenosse Ignatz Bearth, Michael Viehmann and the speaker Helene from Chemnitz. (Festerling talked about the Cologne sex scandal)

The weather is rainy and cold - many wet umbrellas. As it turned out, there was no confrontation with the Antifa, the over 2000  police presence kept them confined. I would call the rally a big success because so many more people turned out than ever before in Leipzig. They appeared to me to be a younger crowd than in Dresden, mostly male.

Take a look at this outrageously biased report in DW. It ends with "the culprits [in Cologne] were said to have been of North African or Middle Eastern in appearance", when the police have already long established they were!  Lying Press, for sure.
Below : Three views of the large crowd at Legida 1st anniversary demo which was relegated by the city to a large parking lot. They went on their march after the main speakers were finished, with tons of police protection. Only two more short speeches when they returned.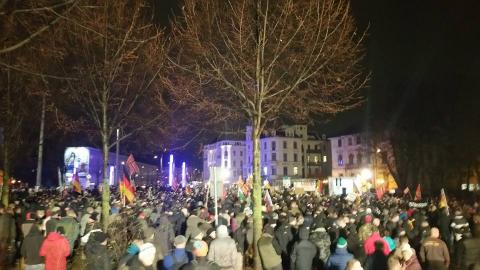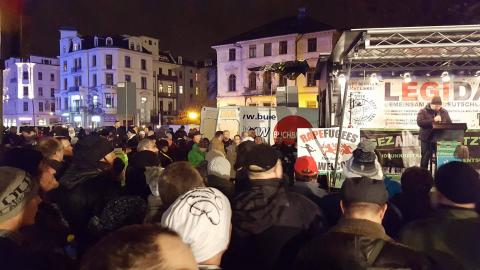 More pictures at Pegida Facebook                                                                                                 
Related news: "There will be civil war in Germany!"

Mr. Dax, the stock exchange expert Dirk Müller attested politics and media a total failure. The significant migrants crime problems will exist for a long time. These problems have been swept under the rug and critics silenced. He certifies that Merkel is the worst mistake in the history of the Federal Republic of Germany.            

In an interview with the German newspaper, "Süddeutsche Zeitung (SZ)," Raimund Becker, a board member with the Federal Labor Office (BA) in Nuremberg, said the vast majority of refugees arriving in Germany were turning to menial jobs because they were more lucrative in the short-term.
"What we're seeing is that refugees more often than not want to earn some money fast, " BA board member Raimund Becker told SZ. "They often need the money to financially support their relatives back home and sometimes to pay back huge debt to human traffickers."
My comment: Well, lower IQ people from South of the Mediteranean are known to be more desirous of quick gratification. This is one of the most basic cultural differences between racial groups. They are never going to turn these people into Germans. The Turks who have been there for 40 years are not successful except somewhat in politics. It's not because they are held down, but because they shun committment to a profession (hard work, long hours).
"Odd jobs won't get the refugees anywhere," said Hans Peter Wollseifer from Germany's Skilled Crafts Organization. "We don't need hundreds of thousands of people pushing wheelbarrows. We need skilled people, and we need a large number of them."