Proven pedophile Greville Janner dead at 87; he got away with murder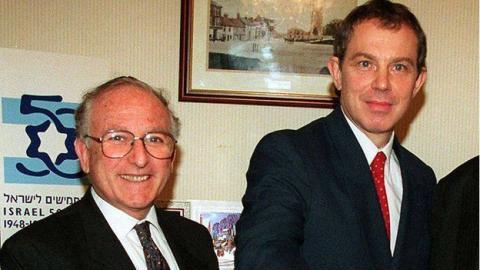 Greville Janner, left, with the up-and-coming Tony Blair in 1998, celebrating Irael's 50th anniversary.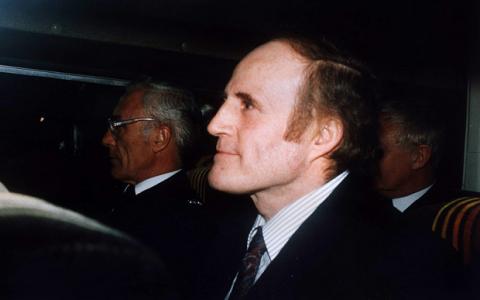 The entire British Establishment is rotten to the core. Frank Beck (right), Janner's main accuser, was put away for life in 1991 and died in prison of an alleged heart attack shortly before his appeal was due to begin,—a healthy man in his early 50's.
From The Telegraph
Lord Janner was accused of 15 counts of indecent assault and seven counts of a separate sexual offence against a total of nine alleged victims in the 1960s, 1970s and 1980s.

Twenty-one of the offences relate to complainants who were aged 16 or under at the time.

The peer had suffered from Alzheimer's disease and vascular dementia, which had left him unable to participate in a trial, four experts who examined him agreed.

The court's decision meant there would be no full criminal trial to hear the claims against him. Instead he had been expected to face a "trial of the facts", where a jury would have been asked to decide whether or not the accused committed the acts he was charged with.

The Crown Prosecution Service says the criminal proceedings will now end and the trial of the facts hearing will not take place.
A spokesman for Janner's victims said:
"This is devastating news for my clients. They have waited so long to see this case come before the courts, to be denied justice at the final hurdle is deeply frustrating. Worse still is that so many opportunities to bring this matter to justice whilst he was well were missed.

"All they have ever wanted is to give their evidence in court and have these very serious allegations tested and to be believed," said Liz Dux, abuse lawyer at Slater and Gordon, who represents six of Lord Janner's alleged victim
Once again, the Jewish Establishment has protected one of their own from prosecution under Christian-Gentile law.
A career dedicated to Jewish interests
Janner is a long-time activist for Jewish interests in Britain who followed his father into the House of Commons in 1970 and remained for 27 years until 1997. He headed the influential Board of Deputies of British Jews from 1978 until 1984, and was responsible for founding the Holocaust Educational Trust with Merlyn Rees, which succeeded in adding the teaching of the Holocaust to the National Curriculum in 1988.