Richard Spencer's upcoming conference to celebrate White identity is a provocation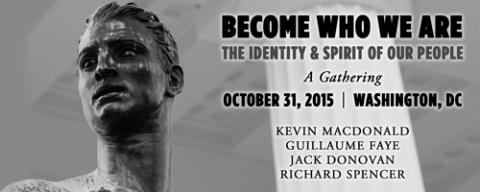 Why did he do it? Why did Richard Spencer invite open homosexual Jack Donovan to be a main speaker, and include him as one of the four names featured on the announcement/advertisment appearing on the Occidental Observer website? Is there a shortage of straight Pro-White personalities who can appeal to potential conference-goers? I don't think so. And what kind of people is Jack Donovan going to appeal to?
Donovan is a former priest in The Church of Satan, from which he resigned in 2009. In the same year he co-authored Blood-Brotherhood and Other Rites of Male Alliance, which put forth the suggestion that forming blood brotherhoods could be adapted as a substitute for more "heteronormative" same-sex marriage ceremonies for gays, of which he disapproves.
This is not the first time Donovan has been headlined at a Spencer conference. At the 2013 National Policy Instutute conference, he shared top billing with Sam Dickson, Alain de Benoist and Alex Kurtagic. So I would have to say there is something about Jack Donovan that Richard Spencer particularly likes.

*    *     *
Guillaume Faye is another bad choice of speaker, since he wrote a book defending "the Shoah" and denouncing "deniers." The book's title is "The New Jewish Question" published in 2007. Revisionist Juergen Graf called it  "a dishonest book whose inspirational motivation seems to have been solely a wish to misinform." According to Graf, Faye writes in a message to his readers:
"As for the 'revisionists' or 'holocaust deniers,' whichever term one prefers, I consider their struggle an adolescent itch, completely useless, ineffective, and counterproductive, tainted futhermore with serious methodological flaws and ideological biases. Their attitude doesn't shock me 'morally' but they are looking in the rearview mirror."
In the chapter titled "Conclusion and summary of the claims" G. Faye boldly repeats himself:
"[…] what are they disputing? Only that the means employed were gas chambers, or the process of attempted extermination itself? The deportations of Jews to concentration camps? What is it that didn't exist? On what semantic level was the lie they're claiming, and where, exactly, is the dividing line between reality and deception? Can one believe there were no anti-Jewish persecutions?" (p. 264)
To Faye, it's not important whether there were gas chambers or not. Elsewhere he wrote:
"I've always felt distant and hostile toward the revisionists (or Holocaust-deniers, whichever term one prefers). While Europe is being subjected to a Third-World and Islamic innundation, this issue has always seemed to me to be a typical example of a phony problem, a strategy of avoidance — of taking shelter in the past. Out of a kind of cowardice or fear they deliberately mistake the enemy. Not to mention how revisionists very often look with tender glances at their Moslem and Arab masters. […] Revisionism is the typical example of masturbating with history in order to forget the present and future …" (p. 171)
And those are just a sampling. Since no one else seems willing to criticize these two speakers for this conference, I decided I had better do it. The proper response to this kind of "in your face" promotion of homosexuality and Jew-friendly attacks on Revisionism to the White community is to turn one's back - to stay away.