SPLC is a hate group in disguise – time it was outlawed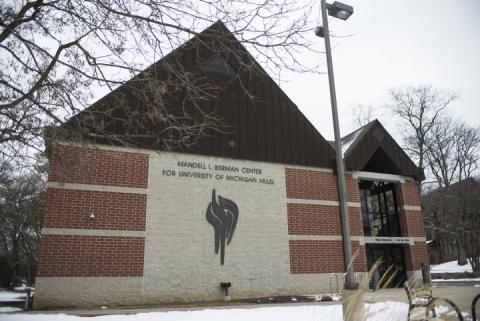 Temple Beth Israel in Ann Arbor, Michigan where Dier Yassin Remembered has been carrying out weekly protests against Israel's apartheid policies.
---
By Carolyn Yeager
IS THERE ANY LOGIC BEHIND THE IDEA ONE WOULD ONLY QUESTION the Holocaust because one hates Jews and wants to harm them? Does anyone think that makes sense?
Apparently, the Southern Poverty Law Center does.
Deir Yassin Remembered (DYR), a local group in Ann Arbor, Michigan, has been placed on a list of hate groups compiled by the Southern Poverty Law Center (SPLC) under the subcategory of Holocaust denial. The group has been staging weekly protests outside Temple Beth Israel in Ann Arbor.
According to SPLC director Mark Potok, in a local Michigan radio interview:
"We list them because over the years they have come to more and more explicitly embrace real-life Holocaust denial. The kind of Holocaust denial that these people practice is essentially a defense of Germany and National Socialism."
When did the defense of Germany and National Socialism become an act of hate? Don't people in the US have a right to like what they like, and to defend what they like if it is attacked? As I see it, DYR is protesting Israel's massacre of Palestinians in Deir Yassin village in 1948 that has still not been rectified or acknowledged.
Where does the Holocaust come into it?
Henry Herskovitz, a self-described "former Jew," and member of the board of directors for Deir Yassin Remembered, campaigned for the release of Ernst Zündel after he was sentenced by a German court to five years in prison. The original trumped-up Canadian charges were based on "publicizing false news" in the form of a book he published in 1974, Did Six Million Really Die? ... a reasonable question.
In 1977 Zündel supplied the photographs as co-author of a booklet by Eric Thompson titled The Hitler We Loved and Why. This was not illegal in Canada, but it bothers the Southern Poverty Law Center folks, who tie Herskovitz and DLR to "loving" Hitler and National Socialism through Herkovitz's protest of Zundel's incarceration. Guilt by association.

Acting out of love for something or someone cannot be hate, but it can bring out hatred from those who hate what the other loves. Who is to judge the right or wrong of it?
Another strike against Herskovitz is that he produced a videotape of himself questioning the holy Holocaust and posted it on the Deir Yassin Remembered website. In it he said:
"Why do I support open debate on the Holocaust? Because I want to know what happened and why it happened. Because I resent manipulation, and I feel manipulated and threatened when decent people like Ernst are locked up for expressing what they believe … If I say the Great War never happened, I don't go to prison … If I say the Civil War never happened, I don't go to prison … If I say passenger jets did not bring down the two World Trade Centers, I don't go to prison. But when I ask for a single wartime photograph of a homicidal gas chamber, in Israel and a dozen other countries I put myself at risk for prison time. This is manipulation. This is mendacity. And I stand opposed to both."
Mark Potok explains that since this is posted on the DYR web site, that is enough for the SPLC to brand the entire organization a hate organization. But this only means something if the opinion of the SPLC is important to you.
More unhinged opinions: a member of the Beth Israel congregation said s/he didn't believe the Deir Yassin group's concerns were what they said they were, but were really just "a deep antisemitism." S/he compared them to the Klu Klux Klan who weren't really defending White rights, either, but just expressing hatred of Jews. In other words, White or Palestinian groups have no sincere beliefs to express, but are just trying to disguise their raging hatred of everything Jewish.
Even a student representative of a different organization that also opposes Israeli Aparthied said "I think that any group that denies Holocaust participates in hate speech and contributes to anti-Semitism by denying one of the worst genocides in human history." One of the worst. What about the other worst genocides – why can they be denied? And what are the others?
More importantly, why is it hate to question something? Anything? Accepting such a restriction puts our liberty at grave risk.
Ask yourself whether certain small groups should dictate what can and cannot be said in the marketplace of ideas.
Ask why Jews should determine what speech is allowed for all the rest of us?
Stand up and demand your congressional representatives stop criminalizing speech to please this same small interest group.
Stand up for your own interpretation of the words you use.
If one does not feel hate in one's heart, who can insist they're motivated by hate?
Why is holocaust denial equated with antisemitism? It's a false equivalency dictated by Jews.
Holocaust denial or questioning is NOT antisemitism, but is brought about by the force of the evidence.
Time to quit going along to get along, instead tell organizations like the SPLC where to get off – and don't be polite.
The SPLC is not a human rights organization; it is just the recipient of lots of Jewish money used to advance a particular self-serving agenda.
Tell your local newspaper that you don't want them to use the SPLC as expert opinion because they are totally biased.
Stand up for freedom, justice and traditional American values!