Ted Cruz: As president, I will be unapologetically alongside the nation of Israel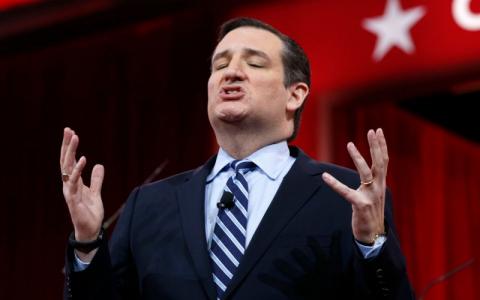 I mentioned in a comment here awhile back that I didn't like Ted Cruz after he said in a debate, with the look of a fanatic in his eyes, that he would bomb Syria until the "sand glowed." It's not surprising to hear him say this now - admitting he's a Jew at heart. 
From The Hill:
Ted Cruz blasted Donald Trump on Friday, Feb. 19 at a town hall in South Carolina:
"Just this week, Donald Trump said on a TV program that he would be neutral between Israel and the Palestinians." 

"Let me tell you this: As president, I have no intention of being neutral. As president, I will be unapologetically alongside the nation of Israel." 
Cruz said "left-wingers" believe in staying neutral in the conflict because "they buy into the media's false moral equivalency."
"There is a different between right and wrong. There is a difference between terrorists who strap nails around their chests and go into a mall to murder women and children and the armed forces protecting the innocents in Israel," Cruz said. 
This week, Trump said he wants to be a "neutral guy" in the decades-long strife between the Israelis and Palestinians. While he warned that making a deal between the two sides may not be possible, he promised to "give it one hell of a shot."
Late last year, Trump drew boos from a group of prominent Jewish conservatives for refusing to take a side on whether America should recognize Jerusalem as the nation's capital. For decades, the White House has remained neutral on the issue by considering Jerusalem an international city and housing its embassy in Tel Aviv, drawing the ire of many who say America should side with Israel and move that embassy to Jerusalem.
Please Donald, stay neutral.