Trump is being politically correct in saying Nazi Germany "leaked fake news"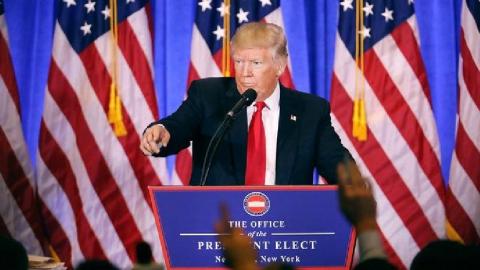 President-elect Trump points to a reporter at his first post-election press conference today, during which he glibly singled out Nazi Germany as a purveyor of fake news.
---
by Carolyn Yeager
IT HAD TO HAPPEN. Donald Trump has done well to refrain from mentioning the so-called 'holocaust' or Adolf Hitler in any of his public pronouncements. But today he compared the publication of a nasty leaked "intelligence" document about himself that he is calling fake news to how news was handled in Nazi Germany. In doing so, he has kow-towed to political correctness, or revealed a very ignorant streak in his own knowledge of history, or both.
In an early morning tweet in response to the report's publication by Buzzfeed (online) and coverage of the document by CNN, Trump wrote
Intelligence agencies should never have allowed this fake news to "leak" into the public. One last shot at me. Are we living in Nazi Germany?
Then later, at his press conference, he repeated the misconception: "I think it was disgraceful, disgraceful, that the intelligence agencies allowed any information that turned out to be so false and fake out. I think it's a disgrace, and that's something that Nazi Germany would have done and did do. I think it's a disgrace that information that's false and fake and never happened got released to the public."
Our president-elect has got it very wrong. I don't think he could give an example of how Nazi Germany did this. He should realize that fake news is an American tradition, and I think he does realize it but is being politically correct by pointing to Nazi Germany instead. The historical truth about the behavior of Nazi Germany is that the National Socialists actually told the truth about events most of the time, unlike the Roosevelt administration and the Churchill government. We have many examples of the fake stories both these governments and their cooperative media created and put out on a regular basis. It is well-documented through the work of respected historians and books devoted to the subject. The difference is, these lies were never directed toward their own head of state, as is being done now with President-elect Trump!
This new report on Trump sounds very much like the sleazy "intelligence reports" written about Adolf Hitler by the American OSS [Office of Strategic Services – precursor of the CIA] in the early 1940's. They were full of the very same type of salacious lies. You can read what I wrote about it in the beginning section of this article. Since these lies about Hitler are still repeated today, Donald Trump is right to be upset about what is being written about him, but he is wrong to name the Nazis as the prime exemplars in such behavior. In doing so, he's falling into political correctness himself.
Another reason for him to stay away from such comparisons is because the ADL is now jumping all over him for "trivializing the Holocaust" by comparing American Intelligence institutions to the Nazis. ADL CEO Jonathan Greenblatt immediately came out with a statement:
"ADL always has maintained that glib comparisons to Nazi Germany are offensive and a trivialization of the Holocaust. It would be helpful for the president-elect to explain his intentions or apologize for the remark."
In my opinion, Trump deserves the trouble he's getting by saying such a stupid thing. He really should know better, not because it upsets Jews like Greenblatt but because it's not true. Of course, it's far-fetched to think mentioning Nazi Germany in itself trivializes the 'holocaust' but that's how far Jewish organizations have gone over the edge in their battle against what they call 'holocaust denial'. I don't think we've heard the end of this, and because Trump never apologizes, it just might spin in an interesting and productive direction. Or not.