Austrian Social Democrat youth leader convicted of lying and libel over "Nazi" salute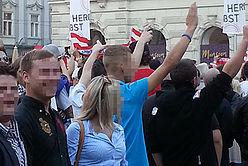 The leader of the Social Democrat's (SPÖ) youth wing in Graz has been convicted of lying and libel after he took a photo of dancing supporters at a far right Freedom party rally which he claimed showed them making a Hitler salute.
_____________________
The photo at right taken by Sebastian Pay, who deliberately and falsely  protrayed it to newspapers as students giving the "Nazi" salute.
_____________________________

A court in Graz convicted Sebastian Pay of releasing a photo knowing that it would give the wrong impression, and it gave him a six-month suspended sentence and ordered him to pay a 1,400 Euro fine.

The picture was widely republished in Austrian media in advance of the recent general election as a sign that the party had a growing number of neo-Nazi supporters, despite the fact that the freedom party (FPÖ)  a day later had managed to provide a video showing that the man and the others around him had been dancing to the music and not making Hitler salutes.
The video however only received significant coverage after the election by which point, according to the freedom party, the damage had been done. At the 0.25 second mark on the You Tube video published here the dancing man can clearly be seen.

They filed a complaint against the person that shot the photograph, Sebastian Pay, the leader of the Socialist youth in Graz.

The court heard that in September he had shot the photographs at a campaign rally in Graz of Heinz-Christian Strache which he then posted online and sent to the media. The photograph showed the man with the arm fully outstretched and at the same time the Socialist youth made a criminal complaint about the man.

Prosecutors in due course investigated and dropped all charges saying that it was clear that the alleged Hitler salute simply been the fact that the man had been waving his arm from left to right, and the photographer had timed his picture at exactly the moment that the man's arm passed over his head.

The fraud was so blatant that prosecutors opened charges against the socialist youth leader saying that he deliberately publicised pictures knowing that they would be misinterpreted. But added that it was impossible from where he was standing not to have seen that the gesture was nothing to do with the Hitler salute, and had simply been responding to the band on the stage.

He also claimed not to have heard the fact that the band had actually asked people to wave their hands from left to right in tune to the music because of the shouts from his protesting colleagues.

He told the court: "I didn't want to cause anybody harm."
http://austrianindependent.com/news/Politics/2014-03-16/15193/SP%D6_Yout...