Went to Murrieta today ...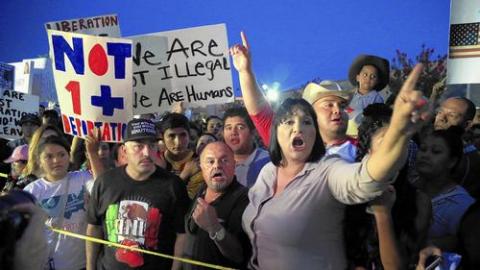 Screaming advocates of "immigrant rights" protest at Murrieta Mesa High School while more than 700 people gathered to voice their concerns and seek answers from public officials over the proposed processing of immigrant detainees at the Murrieta Border Patrol station on July 3rd. (Mark Boster, Los Angeles Times)
Sent July 5, 2014
     "Went to Murieta today.  One of the most depressing days of my life.  The hatred these people have for us is mind-blowing.  They shredded American flags and dragged them in the dirt.  We, of course, were called racists even though they did not hide their hatred of us. And, we are expected to welcome them???  Just let one of us go to Mexico on Cinco de Mayo and shred a Mexican flag.
    The usual, aging white hippies were also there spouting love one another bullshit.  The vitriol from the pro-immigration group was mind-blowing.  There was a yellow police tape separating the two groups and they shouted non-stop about our racism, etc.  They were vicious.  One fellow had a bullhorn and screamed at our side for hours.  Some of our people were angry and screamed back.  I worked our side and told them the cameras were on us and, of course, the coverage would show just us screaming.  I told them to be quieter and make them look bad.  Worked for a while.  Eventually, the bullhorn guy comes over to our side and a few of the guys get into it.  6 people were arrested.  There was one particularly aggressive, bitchy white girl on their side who screamed hatred non-stop.  Looked like your basic Smith graduate.  All smug and morally superior.
    
    Their whole theme was concern for "the children" which was clever in that who can go against children? Telling them it was illegal only got them going.  I was told we were the haters, the U.S. raped every country and killed hundreds of thousands of people.  I asked why they wanted to be here.  Any conversation was pointless.  The entitlement attitude was unbelievable.  They demand.  No gratitude for the millions of U.S. taxpayers that have underwritten all the benefits illegals receive.
    
    When we arrived, the first thing that greeted us was a group of people dressed like Aztec Indians dancing and whooping it up and banging on drums.  Definitely an up yours.  A priest was there with them and I asked him how he could condone breaking the law.  Said we had to love one another and asked whether I wanted to pray with him and the group.  Choking back a "screw you," I declined.  One fellow was dressed like Jesus with the predictable "what would Jesus do?" bullshit sign.
    
    Any comment regarding "legal" immigration was met with an f.u.  I would say that 85% of their participants were in the 16-25 age range.  As the day went by, more and more people on our side arrived.  We finally left around 4 because we felt the buses would not be coming.  We had heard that dates and destinations were no longer going to be announced; that they would henceforth be coming in unmarked cars in the dark and then heard that they would be taking the expected group to Temecula.  It was hotter than hell.
    
    Most of the police and BP on hand were Hispanic.
    
    I am leaving out a lot because it is a blur.  I am still in shock at the hatred, anger and demand from their side.  It is all backwards.  I hope to never be in an environment like that ever again.  I was very shaken but not frightened.
    
    This does not bode well for the future - it is only going to get worse in my opinion.
    
    God Bless and keep our beloved country. "
Thanks to James Sanchez, EAIF, for this anonymous email which he titled "Obama's America."