Greek commies play the Nazi card to avoid paying their bills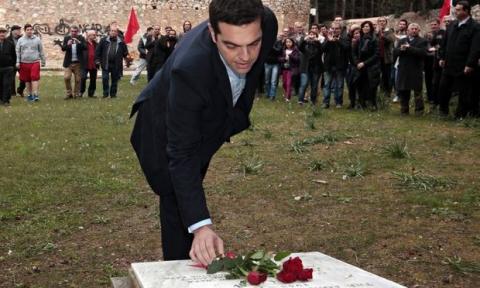 Greece's new prime minister lays red roses as a symbol of "liberty from German occupation", says his Syriza party.
Same old story. Nothing new for left-wing deadbeats who believe other people are responsible for their upkeep while they strike heroic poses. Alexis Tsipras, the newly elected 40-year old Prime Minister of financially-failed and corruption-challenged Greece is striking the pose of the perennial victim of Germany, that favorite whipping boy and cash cow for Israel, Jews and Communists.
Since National-Socialist Germany's total guilt for everything bad that happened before, during and after WWII was determined at the Nuremberg Military Tribunal lynching parties (there were several tribunals, trying the highest to the intermediate leadership), and what was left of the shattered, leaderless German nation was forced to accept this total guilt, the far-left scum of Europe, heirs of the Jewish Bolsheviks and later Stalinists, have taken full advantage of the German natural capacity for hard work and "getting ahead."
"Getting ahead" means you do end up ahead of others who don't care for the hard-work route. These others prefer to follow other paths, one of which is to claim reparations from today's "rich" German Federal Republic. We should not be surprised that the now-ruling communist Syriza party's first prounouncement is to say that Germany owes Greece $200 Billion "for damages incurred during the Nazi occupation" including the cost of rebuilding the country's infrastructure. This just happens to be what Greece needs to pay off its debt. What Chutzpah!
First act as Prime Minister
After being sworn in on Monday, after Sunday's election, Tsipras journeyed to the memorial site at the Kaisariani rifle range, where in 1944 Wehrmacht troops were ordered to execute Greek communist "resistance fighters." This was no more than the expected and legal reprisal action for the guerrilla ambush and murder of a German general, Franz Krech, and three of his aides at Molaos, near Sparti, in the Peloponnese. It was legal because Greece was under the occupation of the Reich at that time, the Reich being the legal authority of the land. The Greeks were warned that such reprisals would be carried out in response to atrocities and killings of German troops.
Tsipras had said while campaigning last spring:
"It is our duty to pay homage and not forget that the European peoples live free and have defeated the specter of intolerance, the dark ideology of fascism. There were thousands of those who sacrificed their lives in our country."
On Monday, as the TV cameras rolled, Greek commentators couldn't help themselves: "It's another 'up yours' to the Germans," one said.
From The Guardian:
That Greece's new prime minister Alexis Tsipras, Europe's first radical left leader [debateable?], should elect to visit the memorial minutes after being sworn in, is rich with symbolism – and defiance too. Red roses in hand, resistance veterans looking on [read old communists], the young firebrand paid homage to the victims in his first act in office. "It represents national resistance to German occupation," says Panos Skourletis, spokesman of Syriza, an alliance of far-left groups ranging from Maoists to greens. "But also the desire of Greeks for freedom, for liberty from German occupation."
If explanation were needed, he adds: "It was purely symbolic."
Far Left Global Research applauds the move:
A two-year-old study

[by Syriza?]

estimated that Germany still owes Greece $200 billion "for damages incurred during the Nazi occupation" including the cost of rebuilding the country's infrastructure. However, later studies have estimated a much higher amount. Another Greek reparation advocacy

[unnamed] 

group estimated that Germany owes Greece $667 billion. Some German public officials are actually on board with Greece getting their full reparations.*

"From a moral point of view, Germany ought to pay off these old compensations and the 'war loan' that they got during the Occupation," said Gabriele Zimmer of the German socialist party Die Linke. [Die Linke (The Left) is the new name for the old German Communist Party which was outlawed under Adolf Hitler's Third Reich. GR calls it socialist.]
*With a population of less than 11,000, that comes to $30,000 per living Greek person.
German communists are international players and have no loyalty to the German nation, but they still play a large role in the Federal Republic while German nationalists are hardly tolerated. More to come on the Greek reparations issue.