Good for laughs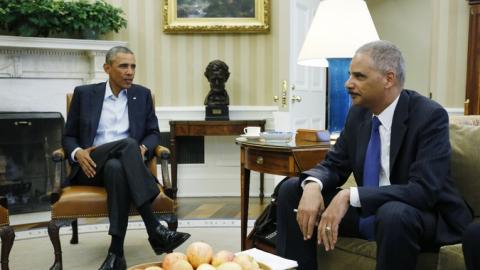 The US President and his attorney general discuss racism in the White House.

The US Department of Justice investigation into the Ferguson, Mo. Police Department found bias against African-Americans. What a surprise.  Of course, we don't need an investigation to know that there is plenty of bias against European-Americans in the DOJ itself, and in African-American Attorney General Eric Holder, Jr.
Some of the "most scathing findings" include seven "racist emails" that are included in the DOJ report. These are the type of emails that circulate around the internet every day that millions of Americans read. They are actually quite funny.
RACIST E-MAILS
A May 2011 email stated -- "An African-American woman in New Orleans was admitted into the hospital for a pregnancy termination. Two weeks later she received a check for $5,000. She phoned the hospital to ask who it was from. The hospital said, 'Crimestoppers.'"
A Nov. 2008 email read -- "President Barack Obama would not be President for very long because "what black man holds a steady job for four years."
An email described a man seeking to obtain "welfare" for his dogs because they are "mixed in color, unemployed, lazy, can't speak English and have no frigging clue who their Daddies are." (June 2011) (my favorite -cy)

An April 2011 email depicted President Obama as a chimpanzee.
A Dec. 2011 email included jokes based on offensive stereotypes about Muslims.
An Oct. 2011 email included a photo of a bare-chested group of dancing women, apparently in Africa, with the caption, "Michelle Obama's High School Reunion."
So what's the big deal? Don't they have a sense of humor? If they investigated the emails of Ferguson's African-American residents, we can be sure they would be waaaay worse than this.