The rise of Viktor Orban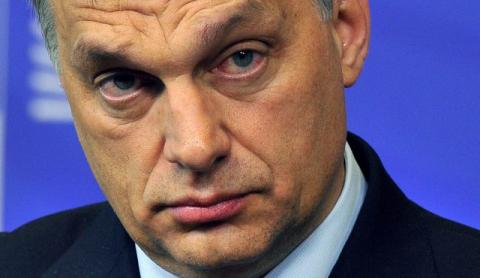 Viktor Orban - Europe's Man of the Year?

By Carolyn Yeager
EU leadership is trying to regain control after the migrant disaster of 2015
European Union leaders are now being forced to accept that Hungarian Prime Minister Viktor Orban was right all along, but are spinning it to make him look wrong anyway.
The mainly left-leaning leaders of the European Union who have made a mess of Europe's affairs, including allowing over a million Arab and African migrants to pour into Europe in the past year, are now trying to ameliorate the blame directed at themselves by saying at least they're not bigoted as are those on the far right.
Yes, that's the story we are hearing. Viktor Orban, as it now turns out, was right all along but he is still a lothesome right-wing dictator! German Chancellor Angela Merkel was wrong to welcome all those undocumented foreigners to come to Germany, but she presented the friendly face of Europe we want to show! In essence, even though we were wrong and he was right, we're good people and he is bad people.
Now that Orban's prescriptions are being embraced by other EU leaders, there is little more they can do besides spin it as best they can. Speaking Friday, Dec. 19, at the summit meeting in Brussels, Orban said there was now an absolute consensus among the prime ministers on the need to protect and control Europe's external borders. "Actually it was Hungary's point of view since the beginning that we should start here," he said with a smile.
Recently, Donald Tusk, president of the European Council that presides over EU summit meetings, described Angela Merkel's welcoming approach to migrants as "dangerous" and endorsed the view long promoted by Orban—that most were not fleeing war but were economic migrants seeking jobs. He recommended asylum seekers be detained for up to 18 months so that full background and identification checks cam be made on each applicant.
"This shows how far the European mainstream is now moving in another direction," said Peter Kreko, director of the Political Capital Institute in Budapest, an independent research organization. "It is moving closer to what Orban represents."
Peter Szijjarto, Hungary's foreign minister, said that the tone of fellow foreign ministers had changed drastically since the summer, when Hungary was repeatedly denounced for building a fence. "It is more and more obvious that what we kept on saying for the last six months turned out to be right.This is acknowledged more and more: Some say it openly, some say it behind closed doors and some don't say it but act accordingly."
On a visit this month to Estonia, for example, Mr. Szijjarto heard lavish praise for Orban from the nationalist opposition Conservative People's Party. We all know that PEGIDA, the anti-Islamic movement that began in Dresden and has branches popping up all over Europe, sees Orban as a hero. But the farthest most mainstream politicians will relent is to say, as did Austria's vice chancellor Reinhold Mitterlehner, that "Orban wasn't completely wrong."
Even officials in Brussels acknowledge in private that Orban got many things right, but that his conspiracy theories undermined his message. [The so-called conspiracy theories of "European socialists wanting to import voters" and "George Soros wanting to undermine nation states with immigration" are both recent developments.]
Tamas Lanczi, the director of the Center for Political Analysis at Szazadveg, a Budapest research group tied to Hungary's governing party, said: "The European elite is very angry with Orban because he spoiled their game. He called out the name of the emperor who is naked." Lanczi noted that after being demonized "as the Devil himself," Orban's views are "now becoming the mainstream. He refuses to walk down the one-way street of political correctness."
Istvan Gyarmati, a liberal retired government official who does not like Orban, admits "There is a shift to the extreme right because the left, or what is left of the left, and the moderate center right were offering answers that were wrong." He criticized the EU's tendency to put wishful thinking ahead of realistic policy.
The only EU response to the migrant crisis has been the so-far unworkable plan to move 160,000 migrants stuck in Greece and Italy to all other European nations under a quota system. Strongly backed by Angela Merkel, it has been rejected by many European nations as being dictatorial and illegal.
Zoltan Kovacs, another Hungarian government spokesman said: "Whenever Hungary made an argument the response was always: 'They are stupid Hungarians. They are xenophobes and Nazis.' Suddenly, it turns out that what we said was true. The naïveté of Europe is really quite stunning."
Calling it naïveté is maybe a little naive in itself. I tend more toward the "conspiracy theory" of European socialists wanting to import voters. And as for Angela Merkel, she may be looking to the Secretary-General job at the United Nations as the best way to top off her career. She is certainly losing popularity fast in Germany.