Growing German animosity toward asylum-seekers is upsetting establishment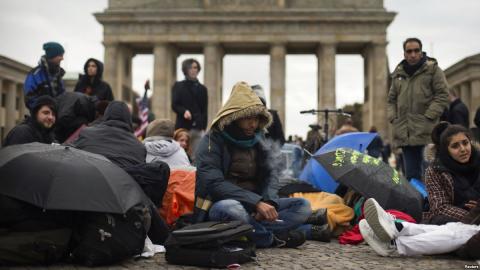 Germany's beautiful and iconic Brandenburg Gate plaza, near to the Reichstag, filled with asylum-seekers last year.
---
By Carolyn Yeager
A SURVEY CONDUCTED ACROSS GERMANY from Sept. 2018 to Feb. 2019 of 1,890 participants by the left-wing Friedrich-Ebert Foundation in Berlin surprisingly revealed what is being referred to as an  "illiberal attitude" toward asylum-seekers.
A study based on the survey by researchers from Bielefeld University reveals that over half of Germans (54.1%) now hold a negative view of asylum-seekers. We may think it should be higher than that, but it's high enough to shock the authorities. The figure was 44% in 2014 before the refugee crisis began.
As to be expected, the percentage was higher in eastern Germany, but was still over 50% in western Germany. Rather humorously, the respondents tended to praise democracy and democratic values, but not necessarily associate that with acceptance of migrants. Researcher Wilhelm Berghan concluded: "A part of the population does not live up to their own values." In a view such as his, democracy is understood to be commensurate with open borders!
The highest level of rejection was directed at Sinti and Roma groups, the second after that being Muslims. Germans are more inclined than in the past to accept LGBT and the homeless, which says to me they see these groups as mainly from their own people. They also rejected sexism.
But here's the funniest part: the authorities are upset because half of Germans admit they let their own feelings lead them more than "experts' views." Imagine! And even one-quarter of those surveyed believe the media is in cahoots with German politicians. In other words, "fake media."
German Family Minister Franziska Giffey considers the results worrying: an "acceptance of inhumane and anti-democratic attitudes." She wants a new law to "promote democracy and strengthen civil society."
Let's hope these results transfer to the European Parliament elections scheduled for May 23-26, before the authorities have time to pass new laws against the people's wishes.