A new direction for America, and for me, personally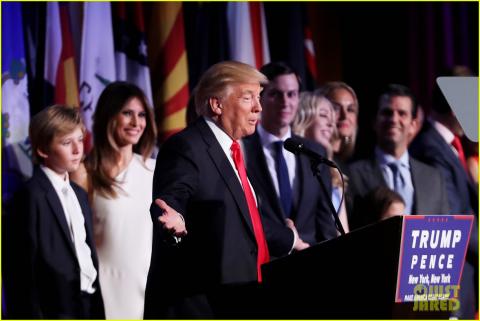 Donald Trump gives a victory speech at around 3 am on November 9th, surrounded by his family and top aides/surrogates. Congratulations, Mr. President-elect!!!!!! photo credit: Just Jared
---
Hello friends,
It's nice to be back. You may have noticed I have not posted anything anywhere since Oct. 23. But I want to begin this post by acknowledging my total elation at the election of Donald Trump, which I see as the greatest gift I could possibly receive. What a relief – and for the next four years I'll have the pleasure of watching this man act in our interests to reverse the terrible decisions and actions that have been put into place in our country. Yes, now I feel it is my country and I'm proud to be an American – not something I have particularly felt much during my lifetime.
The reason I've not posted stems from an accident that befell me while innocently taking an afternoon walk on Oct. 24. My right foot went unexpectedly into a pretty deep ditch, I lost my balance and fell forward onto a concrete patch in front some mailboxes. I pulled myself out, praying I was okay, but could not move my leg. I was taken by rescue squad to our local hospital where it was determined my right hip was fractured. Wouldn't you know – the dreaded broken hip! I was not a happy camper. I spent exactly two weeks in the hospital, for which I have only the highest praise for the great care they gave me and for handling all the details with Medicare for covering it. The majority of time I was in the Acute Rehab Unit on the third floor where things kept getting better and better. All the rooms in this hospital are single rooms and I watched Fox News on the television all day every day. And I voted! … absentee from the hospital room. I was not going to be deprived of my vote for Trump.
Today I've been at home for exactly one week, on a Home Health program where the therapists and nurses come here a couple times a week. I'm making great progress; am now practicing walking with a cane – indoors, of course. They tell me I'll be driving in one more week but I find that hard to believe. After this next week I'll be going out for out-patient therapy to continue my rehabilitation.
I feel right now that I won't ever be doing as much work as I've done even right before this happened, and that wasn't a whole lot. At my age, I need to practice "be here now," be conscious of what I'm doing – not have my mind racing ahead about what I should write, getting angry and feeling pressure to do something to expose these terrible liberals and Jews. Fortunately, we have a lot of good writers fighting the good fight and most of all, for the next four years, Donald Trump is in the White House with a Republican House and Senate! I believe in Trump, I trust him, and I'm confident he will do what he said. Hallelujah. I deserve a rest.
My websites will always remain up; I have made provision for that. And after I have made a full recovery, I'm sure I'll have the energy to be posting again, but I just don't think it will be with the regularity of the past. Or I may mainly post stories and commentary that I think are valuable, rather than write so much myself. We'll see. Thank you to those who have been so faithful to my work and those who have written to me asking if I am alright because they noticed my absence. I appreciate it, you guys.
Right now, I recommend Hadding Scott's new blog post titled "Don't Celebrate Too Much Yet." I'm a fan of Hadding's writing. 
Talk to you again soon.  -Carolyn