PEGIDA's Lutz Bachmann found guilty in corrupt German court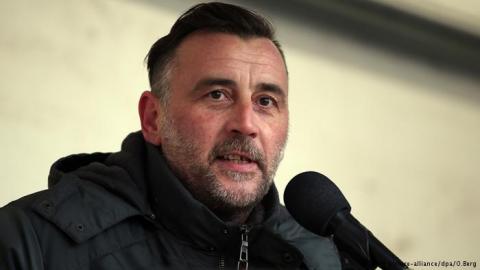 Lutz Bachmann speaking at a PEGIDA demonstration.
WHAT ELSE COULD ONE EXPECT?

A district court in the eastern German city of Dresden ruled on Tuesday, May 3, that Lutz Bachmann must pay a penalty of 9,600 euros ($11,044), after being found guilty of the idiotic charge of inciting hatred, a German legal specialty originating from the American occupation of Germany that began in 1945.
Prosecutors asked for a seven-month prison sentence (!) for using the words cattle, scum and trash on Facebook to describe foreign terrorists coming into the country from Africa and West Asia. Imagine, 7 months in prison for something as tame as that!

Bachmann's attorney had asked for an aquittal. The verdict is not yet legally binding pending a 3rd court session on May 10.
Clearly, the whole process is to "get Bachmann" because of his leadership of the PEGIDA movement - "Patriotic Europeans Against the Islamization of the West." The Federal Republic of Germany openly uses it's justice system to supress political dissent. Frauke Petry, co-founder of the right-wing Alternative für Deutschland politcal party, is also currently under investigation for something about improperly filling out forms when establishing the party. 
This is the same treatment given over the years to the NPD, National Democratic Party of Germany, which is currently under threat of being banned entirely.