World Class Hypocrites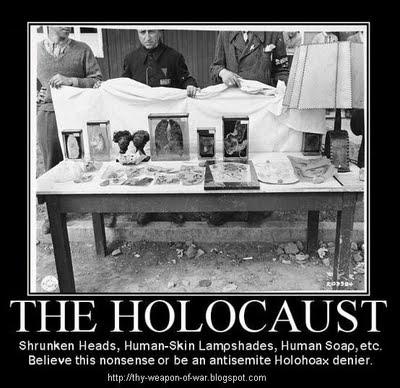 Table set up outside Buchenwald concentration camp to indoctrinate the Germans of Weimar into believing that such horrors took place in the camp.
---
By Carolyn Yeager
THERE IS A WHITE, CONSERVATIVE ELITE OPERATING in this country that functions to keep the traditional World War II narrative intact. Even Donald Trump is compelled to follow it.
Certainly, all "pro-White and "White identity" websites do follow it, such as The Occidental Observer, American Renaissance, Vdare and others. A key component of this narrative is that Jews must not be harmed, no matter how much they are harming Whites even to the point of what some call White Genocide, because … well, you know, Holocaust.
No part of of the white conservative elite or the white identity website operators will question the "Holocaust" as history, except the specifically revisionist sites like CODOH.com, RODOH.info or one's like this, carolynyeager.net. No matter what route or path we take to rousing European peoples to fight on their own behalf, we eventually get stopped by that stubborn block in the road – the Holocaust.
Until the European community agrees to look into this issue as an historical-scientific question not yet settled, we will make no progress in stopping the deliberate replacement being carried out against us. So we need to look at all aspects and organizations as to whether they are hindering or helping this process. Those who are hindering like to say it is possible to "step around" the holocaust question – just ignore it and encourage whites to "take up for their own interests." Yet if there is a powerful industry that punishes Europeans who speak up for their own interests, then what is actually in their own interests can be seen very differently. As keeping one's mouth shut, for example. And that is exactly the situation we are in!
___________________
To this subject it appears I have been temporarily or permanently 'banned' from commenting on the articles at The Occidental Observer (TOO) by the moderator there. This moderator simply does not like me, or what I say, as evidenced by his penchant for publishing his own comments ridiculing or excoriating my comment, as shown in the following recent example. I was replying to the commenter "Poupon Marx" who was complaining that I was a "favorite of the moderator" and given favored treatment, which is opposite to what I have actually experienced:
Carolyn Yeager says:
"You have not posted my reply to Carolyn Yeager- ***again a seemingly subjective and personal favorite*** -due to the very mild harshness of my reply, evidently, in spite of the fact that her reply to my comments, was based on her subjective preferences and specious ideas that have absolutely nothing to do with Indo-European survival. She went right into feminine privilege mode, and deserves to take her licks for it." … Poupon Marx
LOL. I am hardly a personal favorite of the moderator. It is not unusual for my comments to *not* be published, or only after two days time or more. I have also been subjected to the moderator's posted reprimands to me about my comment without showing my comment (!) which I had no opportunity to answer.
Nevertheless, I come back and persevere because I know it's the site owner's right to run it as they wish.
——
(Mod. Note: Cut the crap, Carolyn; and start acting your age! If you want to "change things", start with yourself.)
Is this appropriate? I think not, especially when it doesn't happen to anyone else, only me, and several times already. I also object to his first-name familiarity toward me when I have no idea who he is; he, of course, remains annonymous. By the way, I believe "Poupon Marx" is an agent for manipulation who ought to be watched. It also finally occurred to me that his name stands for "Poop on Marx." The Internet can be a dangerous place.

The Unz Review is a good, free speech site where these topics can be discussed, but just because of this it is filled with leftists, anarchists, anti-Whites and general wierdos whose aim is to disrupt such sincere discussion with faulty scholarship and outright lies. This brings about a lot of sarcasm and insults that result in an angry tone, even from the best of us sometimes. Some like to fight this out and so enjoy that environment; I find it mostly unsatisfying and unhelpful in the long run.

When I started out (15 years ago), there were more women involved than there are now. This is not a healthy development. A misogynist attitude runs through pro-white sites, especially among younger men. Rather than deal with all this, I've decided to stick with my own sites for awhile (once again), where I can say what I want. I welcome European-minded readers to say what they want here, but not to write long treatises. For that, post it somewhere and link to where it can be found.
I'm going to begin a summary/commentary on a publication I just happened across during my "thorough house cleaning" (heh heh), a publication called Handbook For Schooling the Hitler Youth, and we'll see how well it's held up through the years. You can read it for yourself here. I've always thought that the writings for the National Socialist youth are some of the best, both for the girls and the boys. The girls were given every bit as challenging material as were the boys, which has been a source of pride for me.

I'll begin today with Chapter One titled The Unlikeness of Men, with the word men representing both males and females – no gender-political correctness here. It tells us this unlikeness is not only among the races and ethnicities of men, but even within a single family, as no family member looks exactly like another. And not only are there physical differences among men, but also mental and spiritual differences. Examples given: some people love to work; others avoid it. Some esteem courage and loyalty, while others consider them stupidities.
Body, mind and soul constitute the complete man. Not only must the physical characteristics be considered but also the inner makeup. "For the great difference which separates those of German blood from Jews is clearly evident, although physical characteristics seem to designate both as members of the family of white men." Experience shows us the unfortunate consequences of such racial mixing, as the case of the whites with the Paraguayans in the early 19th Century, and the Germans with the black troops occupying the Rhineland after 1918.
Even today, the racial ideas of National Socialism have implacable opponents – Free Masons, Marxists, and the Christian Church. "The Christians, above all the Roman Church, reject the race idea with the citation: Before God all men are equal."
"Now why do we find in Free Masonry, Marxism, and the Christian church this mistaken teaching of the equality of all Men? All three are striving more or less for power over the whole earth, therefore they must necessarily be international. They can never acknowledge the human ties of race, community, or nation if they do not wish to give up their own aims."
However, in spite of this opposition, the race idea goes on gaining ground. This understanding helps us to understand rightly the fourth point of the program of the NSDAP. It states:
Only those who are comrades of our folk can be citizens of the state. Only those who are of German blood, irrespective of religious belief, can be comrades of our folk. Consequently no Jews can be comrades of our folk.
To be continued.
__________________
Is this too extreme for a party today? We used to say "My Race is my Nation." Remember? Many might also say 'My race is my religion.' Now everyone is super careful and self-censoring. Race is a dirty word. The new word is populism, and populist parties join together for support. Jews are never excluded. White advocates only ask for the right to seek their own "interests," not to rule. Have we lost ground? What do you think?