Angela Merkel calls her own constituents "vile" for not wanting to race-mix Germany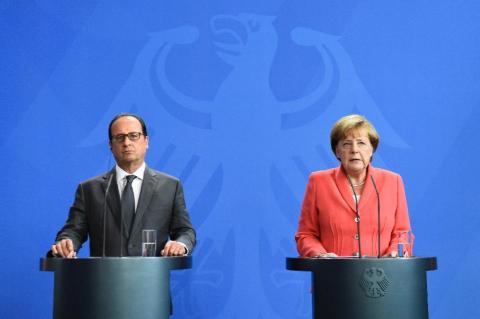 Is this not a grotesque image? The soft and squishy twin 'puppets' - communist French President Hollande and globalist Chancellor Merkel - are "leading Europe" in developing "a unified system for the right to asylum." The Right to Asylum?? Who voted on that right?

The Merkel-Hollande press conference took place Monday because the two "leaders" are caught in a total bind due to their professed dogma that Europe is an open, multiculural continent. Well, a lot of folks are taking them up on that this summer. But many EU countries don't want to be open and multicultural. So things are not going too smoothly.

Earlier, Merkel over-reacted to criticism from the left for not dealing forcefully enough against the anti-migrant sentiment in her country.
Her spokesman put out a statement that "Berlin would not stand for hostility against the newcomers." The Newcomers! "The chancellor and the entire government condemn the violent rampages and the aggressively xenophobic atmosphere in the strongest terms."
Well, tough titty. The chancellor and the government are out of step with the German people. The German people don't want to bail out Greece for the third time either. But there again, Angie knows best and she wants Germans to be compassionate.
Through her spokesman, she said:

It is vile how right-wing extremists and neo-Nazis try to spread their hollow, hateful messages. Those who act like the aggressors of Heidenau place themselves far outside the law.

It is shameful to see citizens, even families with children, joining the protests to back this horrific sentiment". 

Germany is a compassionate country  and will not allow refugees to be met here by hateful slogans or alcohol-fuelled loud mouths.

All asylum-seekers, regardless of whether their claims would ultimately be approved, deserved to be treated with "dignity and respect".
A large percentage of the asylum-seekers come from Serbia and Kosovo. When did they decide their lives were in danger? The damn Kosovo Muslims insisted on having their own independent country and now they are running away from it, preferring to live in Germany! Well, the Serbs are doing the same thing. They are just as much of a problem for Germans as are the Syrians and other Africans. They have no right to force themselves into another country because "they want a better life."
Merkel does not have the backbone to stand up against pressure from the left (and from above) insisting she speak out on aggression against refugees by angry citizens in Heidenau on Friday and Saturday night. Critics  took to social media using the Twitter hashtags #Merkelschweigt (Silent Merkel) and #Merkelsagtwas (Merkel, say something).
Merkel`s vice chancellor, Sigmar Gabriel (a Social Democrat), visited Heidenau on Monday and said Germany should not cede "a single millimetre to this right-wing radical mob". That doesn't sound very compassionate toward his own German people. He reserves his compassion for foreigners.
However, Foreign Minister Frank-Walter Steinmeier, of Merkel's own party, thinks the same, saying the demonstrators in Heidenau did not represent mainstream German opinion. 
"Germany today is a country that is open to the world and -- even in light of the most recent events in Saxony, I stand by it -- a tolerant, culturally rich, diverse country."
Culturally rich, yes ... but soon to be only multi-culturally rich. The German folk need to fight back. God give them the strength.