The reactionaries arise: Sign an 'open letter' urging boycott of Austria's FPÖ cabinet members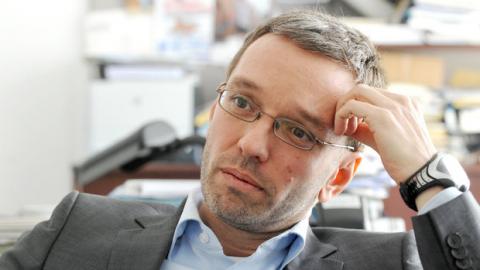 Herbert Kickl, talented former FPOe party chairman, is the new Home Secretary (Minister of the Interior) in Sebastian Kurz's Austrian coalition government.
---
By Carolyn Yeager
FOLLOWING PRIME MINISTER BENJAMIN NETANYAHU'S ANNOUNCEMENT on Dec. 18, 2017 that Israel's Foreign Office would instruct it's ministers to work only with lower-ranking officials from the Austrian ministries now headed by members of the FPÖ party, some far-left reactionaries and Jews have released an Open Letter also calling for a partial boycott of Austria's new cabinet.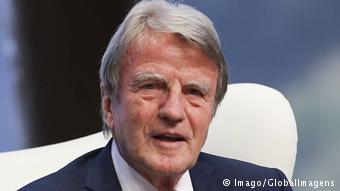 Ho hum, I guess they felt someone needed to do something. None of the signers are currently in government, so it's just a headline they're trying to get. It appears there are only seven signers (or maybe sponsors): former French foreign minister Bernard Kouchner (Jew, pictured at right) and anti-racist Benjamin Abtan of AGEM; Leftist Jose Ramos-Horta (Nobel Peace Prize winner from East Timor; former Spanish foreign minister Socialist Miguel-Angel Moratinos, former Canadian PM Kim Campbell, and those tired old Nazi-Hunters Beate and Serge Klarsfeld.
Heirs of "Nazisim"
The letter condemns the "culpable silence and apathy" that prevailed in Europe on December 18 when Kurz's cabinet, including FPÖ leader Heinz-Christian Strache, was inaugurated. An unedited automatic translation of what appeared in the Le Monde newspaper is as follows:
THE WORLD | 28.12.2017

Let's not look away: it was the heirs of Nazism who came into power in the new Austrian government. We are all concerned because we are all threatened by their hateful ideology of hatred. Democracy and Europe are facing a new push, which could be fatal. It's a dangerous step.

Yet it is in a guilty silence and apathy that chancelleries [embassies] on the street have welcomed this news.

We reject the idea that the progress of nationalism and the end of democracy would be inevitable, and the action against the heirs of Nazism, useless or even illegitimate. On the contrary, we believe that it is the ethical, civic and political responsibility of everyone to confront them resolutely.

That is why we are calling for the banishment of Europe from this Austrian government. In practice, this means that far-right Austrian ministers should not be received by any of their European counterparts, who should not attend any meetings or meet with them.

It also means the boycott by the Heads of State and Government of the Austrian Presidency of the Council of the European Union, between 1 July and 31 December 2018.

It is not by permissively permitting the ideologies that led to its destruction that the future of Europe can be built, but by fighting vigorously for its fundamental humanistic values. It goes with the nature of our shared destiny.


The FPÖ leaders who have accepted cabinet portfolios are Herbert Kickl (former party chairman) as Minister of the Interior; Mario Kunasek as Minister of Defence; Norbert Hofer (recent candidate for President of Austria) as Minister for Infrastructure; and HC Strache as Minister for Sport and Civil Service, as well as Vice Chancellor. Karin Kneissl was appointed Foreign Minister by Strache. I don't think Europe is going to follow this boycott path this time around, as they did back in 2000 with Joerg Haider.