Comparison of two existing texts of Heinrich Himmler's "Freedom Day" speech
By Carolyn Yeager
WHEN IT CAME TO MY ATTENTION that there were differences between my copy of Himmler's speech and the one that Veronica (Kuzniar) Clark used for her book Hitler and Himler Uncensored, I was fortunate to have the cooperation of the translators on both sides in order to do a proper investigation.
It came about this way:
After I posted Carlos Porter's translation of the speech on 7 Feb. 2016, Wilf Heink saw it and wrote to me on the evening of 9 February, telling me that the image of the front page of Himmler's transcribed speech was different from what he had found back in 2011-12 on a roll of NARA microfilm. He wanted to know why, and he attached a copy of the front page of the speech that he had printed out from the microfilm (shown here - click on images for enlarged view).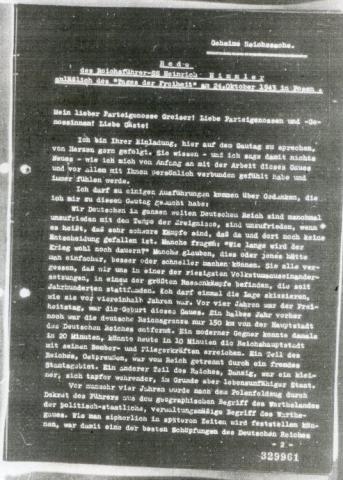 I was surprised to see his page in negative form. It turns out that was all he and Clark had to work from in translating the speech. I also noticed differences right away. The following day, Wilf sent this explanation to me:
Carolyn, here it is, as I remember it.

Some time ago I tried to substantiate a source Maser quoted from [...] I contacted Scott Smith from RODOH, asking him if he could help. He consequently sent me two microfilm rolls, 712 and 713. […] I went through the film frame by frame and found nothing, the frames are numbered in sequence with huge gaps, one can see the splices. Now this was obviously sorted out after the fact, material removed. And that is when I stumbled on the Himmler speech and printed it out. [...] I translated the speech, sent it to her [Veronica Clark] to do with it whatever she will.


Both Carlos and I suspected right away this was something from Nuremberg where, Carlos explained, all the documents were retyped using a stencil for reproduction on a mimeograph machine, and many were later photostated. Those came out as negatives and, because it was expensive to turn so many pages into positives (they had many thousands of pages), a great many of them remained only in negative form.
After Wilf sent his complete set of negatives to Carlos, it became obvious that, while our text showed the signs of being a product of the SS [Schutzstaffel], the Clark text was a copy produced at the post-war Nuremberg IMT by the Jew-heavy American team. Or, to put it another way, ours is a photocopy of an original, taken out of a larger file – which explains the double pagination and why the upper left-hand corner is pasted over to delete reference to that larger file. Hers is a "negative photostat" of a retyped "copy"
This Nuremberg copy of the speech was in a batch of other documents on microfilm, in negative form, and possibly never used by the American prosecutors. Perhaps they had another copy somewhere, who knows? But we do know that this copy of Himmler's speech that Veronica Clark used in her book is defective when compared to the SS version of the speech that Carlos obtained. After I compare the two, you will agree with that assessment. They are the same speech and convey essentially the same content, but things have been added, deleted, reworded, inverted, and the order of ideas has been changed in some cases – according to Porter.
Why was it changed, you ask? Well, we're not saying it was mischevious, but more like just plain carelessness. The typists seem to have gotten the idea to "edit" the text and went about "improving" Himmler's grammar and rearranging his sentences! There were at least two different typists because on the first 7 pages the "sharp S" (ß), which is on ALL German typewriters, was used, but on pages 8-24 it was not. Different typewriter too? [The sharp S is seen below on the upper typewriter key second from right, below the "colon" sign]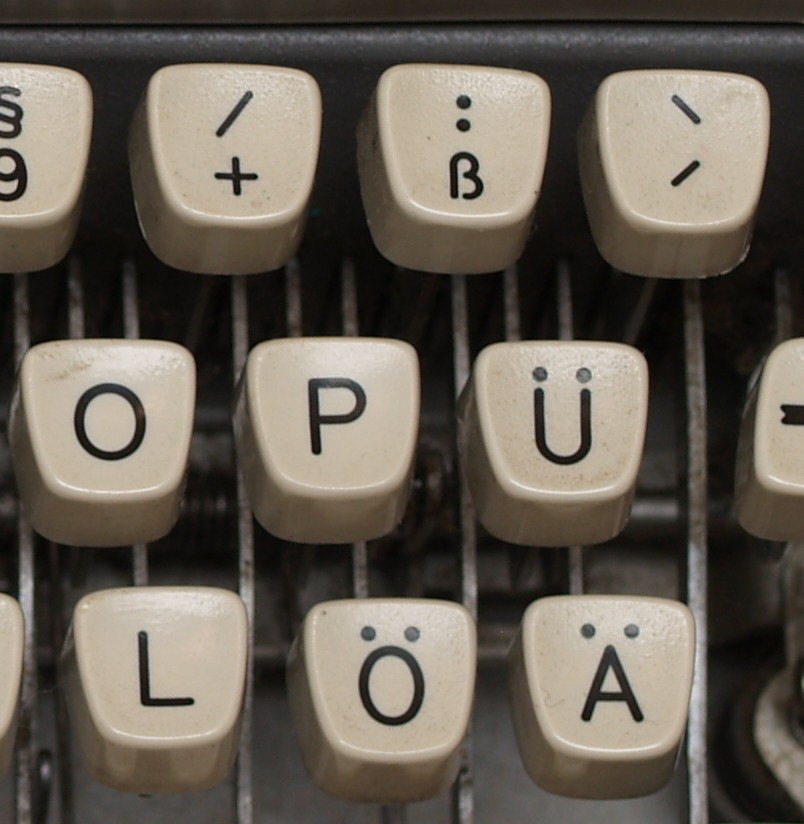 Carlos said to me, "Some of the sentences are made slightly more clear, but the sense also becomes slightly different. It should go without saying that you're not supposed to "improve" on historical documents – especially when they're for use in a criminal trial."
He also said the handling of documents at Nuremberg was extremely sloppy. "They only went over there to party and screw starving German girls and have affairs with their secretaries and boss people around," Carlos said [which I already knew from my own research]. "Telford Taylor describes this party atmosphere, which lasted for a whole year. […] Plus they were all Jews and most of them were probably drunk half the time. That's the reason for some of this sloppiness. They didn't give a damn. There's no other explanation for deletions like this."
I can't show you the entire speech comparison, but be assured there are numerous differences on every page, adding up to hundreds. I will do my best to give you an idea of what they're like by detailed comparisons of pages 1 and 8, plus one item on page 13.
__________________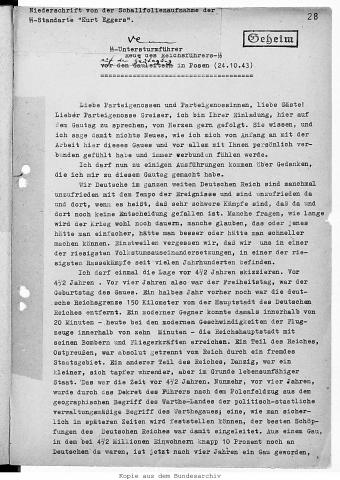 On Page 1 (see above), you can see that the document Carlos used appears to be a modern photocopy of an original SS document, with SS rune (
see image below of typewriter keys), ink stamp (Geheim) and a real-live handwritten signature (Venner), the person who prepared the copy. It accords with the sound recording of the speech that exists. 

In contrast, Clark's copy (the negative image shown further above) is without SS-runes, without a signature, with an altered heading, altered security classification (changed from "Geheim" [Secret] to "Geheime Reichsache", a higher classification). There are no stamps on the document, the words "Geheime Reichsache" are typewritten.
Based on this typed incorrect security classification, Clark emphasized in her book that because of its "top secret" classification, Himmler was more unguarded in this speech than he otherwise would be, which meant to her that it was a real insider look into his state of mind. Wrong. The speech was only classified as "Secret" (as I suppose every Party speech was) and he was saying the same things he was known for saying all along. He is also very much in line with Hitler and carrying out Hitler's policies. There is actually nothing in this speech that was not discussed between Hitler and Himmler during their dinner conversations recorded in Table Talk, which we have known for a long time.
Why the salutation in the speech was changed is a mystery. In our SS copy, Gauleiter Greiser is mentioned last and Himmler goes directly to special words addressed to Greiser – a natural flow. In the Clark salutation, Himmler mentions Greiser first and then the party comrades and guests. This requires a new paragraph and sentence to address Greiser again with some special words.
In the next short paragraph the word nun [now] is left out. In the next, an "n" is added to Wir Deutsche, which is how it appears on our copy. Both forms are correct, so this probably illustrates what Carlos Porter described to me in this way: "Some people have to screw around with everything. I had an editor who kept "correcting" the bad English spoken by a Frenchman in a trial transcript, for Christ's sake. I told him, look, you can't change that, it's a trial transcript, an official record, damn it."
There are eight more minor changes in the same paragraph that come under that same category of "screwing around."
In the next paragraph, a sample sentence is:
Ein moderner Gegner konnte damals innerhalb von 20 Minuten -- heute bei den modernen Geschwindigkeiten der Flugzeuge innerhalb von zehn Minuten -- die Reichshauptstadt mit seinen Bombern und Fliegerkräften erreichen.
The Nuremberg typist took the liberty to change it to this:
Ein moderner Gegner konnte damals in 20 Minuten – konte heute in 10 Minuten die Reichshauptstadt mit seinen Bomber- und Fliegerkräften erreichen.
Another:
Das war die Zeit vor 4 1/2 Jahren. Nunmehr, vor vier Jahren, wurde durch das Dekret des Führers nach dem Polenfeldzug aus dem geographischen Begriff des Warthe-Landes der politisch-staatliche verwaltungsmäßige Begriff des Warthegaues; eine, wie man sicherlich in späteren Zeiten wird feststellen können, der besten Schöpfungen des Deutschen Reiches war damit eingeleitet.
Changed to:
Von nunmehr vier Jahren wurde nach des Polenfeldzug durch Dekret des Führers aus dem geographischen Begriff des Warthelandes der politisch-staatliche, verwaltunsmässige Begriff des Warthegaues. Wie man sicherlich in späteren Zeiten wird feststellen können, war damit eine der besten Schöpfungen des Deutschen Reiches.
Also, the number 329961 at the bottom right of the first page is the "document book number" that is on all IMT documents. Each page has a number. That tells us it's definitely a Nuremberg trial document.
__________________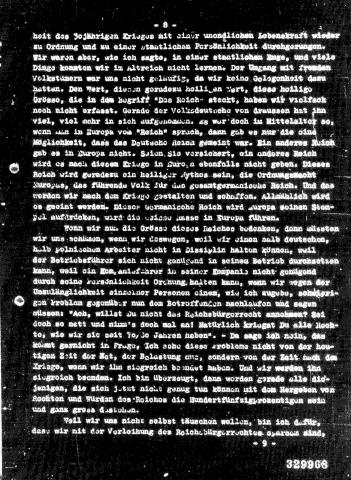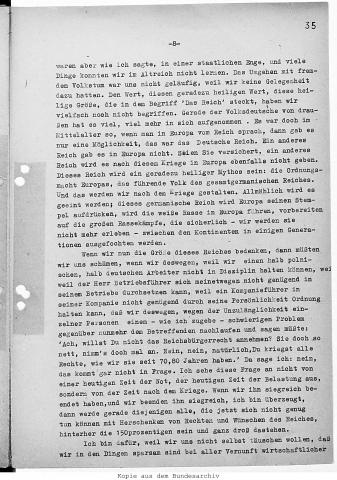 On page 8 (above) an entire sentence in the middle of the page was deleted:
Und das werden wir nach dem Kriege gestalten. Allmählich wird es geeint werden; dieses germanische Reich wird Europa seinen Stempel aufdrücken, wird die weiße Rasse in Europa führen, vorbereiten auf die grossen Rassekämpfe, die sicherlich – wir werden sie nicht mehr erleben – zwischen den Kontinenten in einigen Generationen ausgefochten werden.
Translated: And that will be drawn up after the war. It will gradually be united; this Germanic Reich will impress its stamp upon Europe, will lead the white race in Europe, and prepare it for the great racial struggles which will surely -- we won't be around to see it -- be fought out between the continents within a few generations.
Changed in Clark's text to:
Und das werden wir nach dem Kriege gestalten und schaffen. Allmählich wird es geeint werden; dieses germanische Reich wird Europa seinen Stempel aufdrücken, wird die weisse Rasse in Europa führen. [The last sentence is missing.]
Translated: And it will be created and drawn up after the war. Gradually it will be united; this Germanic Reich will impress its stamp on Europe, will lead the white race in Europe.
"Und schaffen" (and created) was added – for whatever purpose. Was this typist just having fun?
The "great racial struggles" that would be "fought out between the continents within a few generations" was deleted from the Nuremberg copy – as we can see on the page 8 negative. That paragraph ends "in Europa führen." and then continues with a new paragraph "Wenn wir nun die Grösse dieses Reiches bedenken, … [ Now, when we think of the greatness of this Reich ...].
This is a serious omission that definitely deprives the reader of the sense of one of the National Socialist motivations for colonizing the East – to better protect Europe from the non-White invasions that were sure to come. I noted on the speech that this was very prescient of Himmler!
In the next paragraph on page 8 are five more differences, and in the last paragraph there are twelve! The worst one is this sentence from  our SS copy:
...ich bin überzeugt, dann werde gerade diejenigen alle, die jetzt sich nich genug tun können mit Herschenken von Rechten und Wünschen des Reiches, hinterher die 150prozentigen sein und ganz droß dastehen.


was changed to:
Ich bin überzeugt, dann werden gerade alle diejenigen, die sich jetzt nicht genug tun können mit dem Hergeben von Rechten und Würden des Reiches die Hundertfünfzigprozentigen sein und ganz gross dastehen.


This is the kind of thing we find throughout the entire speech. Carlos Porter says he's never seen anything like it. But if you have only the Nuremberg copies, you have no way of knowing how wrong it is. For example, I just edited the previous sentence: I changed "only have" to "have only," which is only stylistic, but I should not edit even that much in a historical document.
_______________________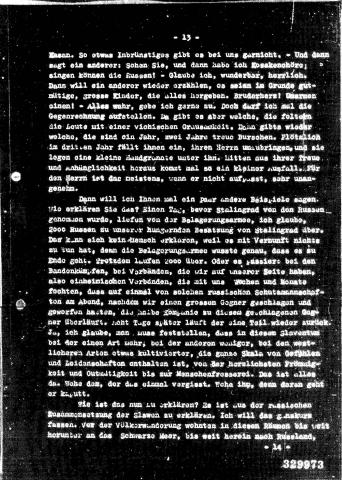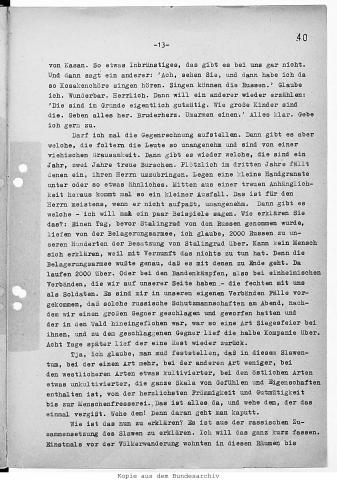 On Page 13 (above) there is another serious example of deleting Himmler's words. On our SS copy, 8 lines down:
Dann gibt es aber welche, die foltern die Leute so unangenehm und sind von einer viehischen Grausamkeit. [There are also those who torture people quite horribly, with a bestial cruelty.] 
On the equivalent Nuremberg copy page it is:
Da gibt es aber welche, die foltern die Leute mit einer  viehischen Grausamkeit. [But there are some who torture people with a bestial cruelty.]
How important is this deletion? You will decide, but it doesn't express fully what Himmler said.
To sum up, we learn again that nothing can be taken for granted; everything has to be investigated by someone who cares about exactitude with the truth. In this case, I was lucky that Wilf Heink saw it and that Wilf is an honorable man whose goal is the TRUTH about Germany. I was also fortunate that my translator, Carlos Porter, is very familiar with Nuremberg trial documents, having done massive work in translating and writing about them. Because of this "luck," something has been brought to light that, if I had not been prevented from using Clark's translation of Himmler's speech and thus forced to get my own, may never have seen the light of day. Pretty ironic.

But the most important thing in all this is to know we have the words that Himmler actually spoke. For this, we do have the recording to compare with the written text. In the opinion of many, Heinrich Himmler was a brave and hard-working man who served his country's leader Adolf Hitler and the German people with all his ability and all his strength. He was also a man of wit who liked to use heavy irony in his speech when the occasion allowed it. He deserves to be seen by history as he actually was.
Thanks to all who have read this all the way through. I hope you will spread the news that the only Himmler Oct. 24, 1943 "Freedom Day" speech you can trust is found at carolynyeager.net.