The creep of censorship hits home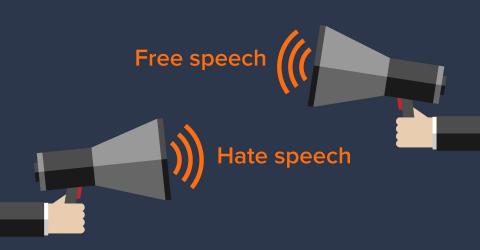 IT CAN NOW BE TOLD. The company that has hosted my server for the past 10 years without a problem took me offline without warning on Sunday morning, Feb. 17. When I made contact with them on Monday, Feb. 18, I was informed that 1&1 (recently become 1&1 IONOS) had terminated my account. The best reason the "security" rep could give me was the vague word "hate." We're all supposed to accept that as meaning something. He said they would send me a letter of explanation. Why didn't they send the letter first?
The letter that came contained the two "relevant" points from the Terms and Conditions, to wit: thou "shall not contain or link to any material which is harmful, violent, threatening, abusive or hateful." Didn't seem to be relevant to me - my site is mild and factual - but it's all in how you define these words, right? It realy came down to the most important point: We're a private company, headquarted in Germany, so we don't have to defend ourselves. They had received complaints, and that's enough.
At least they gave me 15 days to remove my content, as a courtesy for the long time I had been with them. I appreciated that. My sites went back up and remained up while I made arrangements and they were moved to a new server on Tuesday, Feb. 26. The new server is costing me a little more and I feel somewhat insecure, but if the Daily Stormer can find a way to stay online I guess the rest of us can too.
In the big move, something was overlooked and my podcast content didn't get moved. I hope that will be corrected soon. If any of you notice something else that doesn't work or is missing, please let me know so I can look into it.
It's most regrettable that we are awash in a environment in which everything we believe to be good (for us!) is considered 'hateful', 'harmful', 'threatening' to those who are not us. Seeing others as foreign, with foreign interests, is what is considered 'hateful' in itself! It's regrettable they have been allowed to take over our homelands and demand we give them what is good for them! I have sought to understand and shine light on how this has happened – why and when it happened – that's what Carolyn Yeager.net is all about. Taking away our right to self-defense is indefensible. It's exactly what was done to Adolf Hitler and National Socialist Germany, and by other Europeans too! This is something we need to keep in mind. We are a house divided.