Mitt Romney is an example of "White Suicide"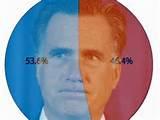 Mitt Romney today publicly smeared Republican frontrunner Donald Trump in a speech in his home state of Utah, calling Trump a phoney, a fraud and saying "his promises are as worthless as a degree from Trump University." He actually says that Republicans "should shun" Trump for the good of the country and party!

But Romney did not endorse another candidate.
So what is he trying to accomplish? Mitt Romney made his money as a stockbroker, for God's sake. How uplifting is that? Romney also lost twice, first in a primary battle with McCain and 4 years later running against Obama's second term.
Hillary Clinton, the presumptive Democrat nominee, has a history of crimes and misdemeanors trailing behind her and has been under investigation by the FBI for months. She clearly mishandled her high positions in the Obama Administration. Her support comes from fascist groups like "Black Lives Matter" who engage in lawless activity, yet if people who care and look out for the interests of White lives express a preference for Donald Trump, Mr. Trump is expected to disavow, disavow, disavow ... even though his doing so will not end the media mantra of association with "White Supremacists", a very inaccurate term. With all her baggage, the Democrat Party backs Hillary, gives her every courtesy and no Democrat speaks ill of her.
Not so with the frightened White Republicans. They are truly suicidal and seem to be right at home kowtowing to establishment, super-liberal, anti-White "rules" of political correctness. They don't want a majority White Republican Party; they accept continuing immigration from 3rd world, non-white countries; they want to allow tens of thousands of Muslim migrants into the US on the stated basis that they are afraid of offending the Muslim Middle East who "we need."
Today Mitt Romney stands before us as a politically prominant White man intent on White suicide - living proof that there is such a thing.