The Outrage and Hypocrisy continues: Reynouard sentenced to prison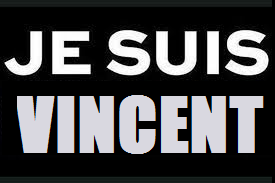 The complaint was brought by a Caen-based association that purports to honor Canada's Second World War soldiers.
French high school teacher Christophe Collet heads the "Westlake Brothers Souvenir Association" named after three Toronto Brothers who died in combat in June 1944. [So they hate all National Socialists, I suppose -cy] "We were expecting to win, but hearing that Reynouard was sentenced to two years was a great joy," Collet said.

Other plaintiffs were the Paris-based International League Against Racism and Anti-Semitism (LICRA), several rural municipalities and a Roman Catholic high school. Reynouard is a life-long practicing Roman Catholic.
Along with a 35,000.00 euro fine, Reynouard is ordered to pay 3,500.00 euro to LICRA and 500.00 euro to Westlake Brothers (Collet's association).

David Chilstein, Jewish criminal law professor, said in a phone call: "Prison sentences in freedom-of-speech issues are usually suspended sentences. But we are in a context of rampant anti-Semitism, and since the January attacks [in Paris] everyone understands the power of words. The court wants to appear tough on anti-Semitism." 
Excerpted from The Globe and Mail
*      *      *
Here is Vincent on the unwillingness of the French Holocaust Lobby to debate the issues, but instead to apply draconian law to put an end to his speech. Be sure the English subtitles, courtesy of Kladderadatch, are on.

https://www.youtube.com/watch?v=ApS5wEpxGqE
*       *        *
Here is fellow French revisionist Robert Faurisson on the Reynourd judgement, in light of the recent Charlie Hebdo celebration of "total free speech" in Paris (Je suis Charlie), translated from the French by Kladderadatsch:
A month ago, millions of protesters gathered in France, notably in Paris, to show—even shout—their attachment to freedom of expression.

Today, what do these good people think of the fact that a French court just condemned the father of a numerous family, practically without resources, to two years in prison and to heavy financial penalties simply because he published the results of his research on a point of historical interest?

Vincent Reynouard was sentenced in these terms on the basis of the Fabius-Gayssot Law of 13 July 1990, which provides for a maximum prison sentence of only one year. It will be interesting to see how the Court was able to justify such a decision. For his part, the prosecutor appears to fear a voided decision (i.e., due to the excessive prison sentence) and that his prey might escape on that account. He is determined to see the "guilty" go to prison in earnest. He will insist on obtaining satisfaction.

The irony in this affair is that the Fabius-Gayssot law—a law sponsored by a socialist (Fabius) and a communist (Gayssot), and which is sometimes called the "Faurisson Law" (on account of its origin as an attempt to intimidate the present writer)—prohibits the contestation of "crimes against humanity" as defined and prosecuted by the International Military Tribunal (three lies in three words!) of 1945-1946 in Nuremberg. Inform yourself about the shabby and underhanded nature of this Tribunal . . .

1) which was both judge and party to the case

2) which, in articles 19 and 21 of its founding statue, stipulated that it would "not be bound by technical rules of evidence" and that it would "not require proof of facts of common knowledge but shall take judicial notice thereof"

3) which refused the condemned all possibility of appeal

4) which instituted the principle of collective responsibility and guilt-by-office

5) which considered as authentic evidence numerous documents and reports which later were revealed to be false, as proved to be the case with the alleged four million victims of Auschwitz, the "steam chambers" of Treblinka, the six million victims attributed to Eichmann himself by the Tribunal, and the crime at Katyn attributed to the Germans (though not mentioned in the Tribunal's final judgment)

6) which was in no way "international" but rather merely "inter-allied"

7) which had no military members apart from the two Soviet judges, one of whom, Nikitchenko, was the prosecutor at the abominable Moscow show trials

8 ) and which was no more than a means of "continuing the war effort of the Allied nations" as American prosecutor Robert Jackson himself said, etc., etc.

I am prepared to testify on behalf of Vincent Reynouard in case of appeal, and to demonstrate that today, on a scientific level, there remains nothing left—not one stone standing—of the appalling edifice of calumny that is 1) the alleged genocide of the Jews, 2) the alleged Nazi gas chambers, and 3) the alleged six million victims. An example: after the misadventure of the medico-legal inquiry into the "scene of the crime" and the cadavers found at Struthof by Professor René Fabre, doyen of the Faculty of Pharmacy of Paris—an inquiry completed on 1 December 1945—there has not been a single magistrate who has seen fit to order and obtain an expert medico-legal opinion of any sort demonstrating the existence and the functioning of such a weapon of mass destruction by means of gas. Evidence has been dispensed with in favor of "testimonies" and "confessions."

Robert Faurisson, 12 February 2015
Also consult http://jan27.org, in particular the Pages titled The Insanity, The "Gas Chambers" and The "Plan." And watch Vincent's video with English subtitles, "The Gas Chambers of the Nuremberg Tribunal".