PEGIDA supporters fill the Theaterplatz in Dresden again on Jan. 25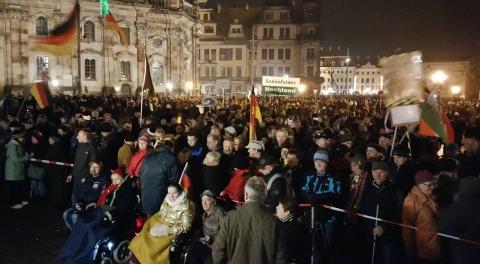 Livestream ‪#‎PEGIDA‬ @ ‪#‎DRESDEN‬ 25.01.2016
https://m.youtube.com/watch?v=iS2ZRIxhQzs
From The Epoch Times:
The weather is cold and clear. The scheduled speakers are Tatjana Festerling, Paul Weston of Pegida UK, Tanja of Pegida Denmark and Ann-Marie Waters of Pegida UK.

6:50 Tatjana Festerling reported on the "cross-linking of the patriots of Europe", which she and Lutz Bachmann worked on over the weekend in Prague. The following countries have participated: the Czech Republic, Slovakia, Poland, Austria, Bulgaria, Holland, Finland, Estonia and Italy.
The group will call for "Fortress Europe" and aims for "our Europe, as we know it and love it."
The goal is networking for international understanding. Festerling read out the so-called "Prague Declaration" signed by the group.
7:05 Paul Weston of Pegida UK is the next speaker. He announces that we'll hear from Pegida United Kingdom a lot in the future.
"Pegida UK is just getting started - inspired by Dresden." They watched the Dresden success with great admiration and hope to achieve the same in the UK.
If there were something that politicians fear, it is a peaceful mass movement of the people. Weston said: "We have been betrayed by our politicians, the mainstream media and the elites." He expects that they must now be taken seriously by politicians. "We will not stand by to see our countries be transformed into Islamic states" and not wait and see "how our culture and our heritage are destroyed before our eyes."
"Pegida is our driving force of resistance. I hope we will see that there is a huge international movement. "
"Together we will resist, together we will win." He thanked Pegida, Lutz Bachmann and Dresden.
7:18 Now Tanja of Pegida Denmark speaks. She says: "Denmark will not watch while the country goes to the dogs."
"Danish citizens and I have been impressed by your walks in Dresden"
It is an enormous inspiration that so many German patriots participate and " you stand up for your values ​​and your lifestyle".
She is here to show that Denmark was on the side of Germany and all other European countries to save Europe and "our civilization".
"You are hit especially hard because of Merkel's insane, open invitation to this near-invasion." Most migrants are well-fed young men, "full of greed for our prosperity."
"In Denmark we are scared too, as more and more of them are also beyond our borders." The Danish politicians are paralyzed, unable or unwilling to intervene. "Our elected leaders behave as if they had the right to reshape our countries how they want it."
"We have chosen these politicians to protect us and they failed miserably. It is our job to remind them that the real power lies only in the people. "
Without culture a country is only a piece of land. It is the people and their hearts that make up a country and a culture. "Our culture is European and not Islamic," she says. In Denmark there is an increase of violence, crime, rape and sexual assault.
7:27 The people's representatives must finally do what they need to do, or withdraw, said Tanja. (calls of "Resistance-" and "Merkel has to go")
"What kind of future do we want for ourselves and our children?" She asks.
"We should ask ourselves whether it is worth our civilization with equality, freedom, democracy, women's rights, sexual self-determination and many other values, to fight for it," says Tanja. Or should we sacrifice that on the altar of political correctness for a "multi-culti madness" that does not work?
She announced that they "will not go on our knees" and will not accept that Europe and its culture will be destroyed. "We will continue to protest until we are safe and this grotesque invasion is stopped. We will give whatever is needed, and we will win". (Loud cheers)
After the walk:
8:23 "Alexander Konigsberg" is next speaker on the podium. His message is short and is formulated in Russian and German.
"Russian patriots and nationalists welcomed Dresden," he exclaims.  "We support your struggle for German cultural preservation, sovereignty and tradition. Russians and German should get ready for the fight against invaders from the East and West. "
"German, fight for your freedom. Russians and German may no longer make war on one another. Long live Germany, long live Russia!"
8:31 The next speaker is Ann-Marie Waters of Pegida UK. She asks how to recognize that a society is Islamized and gives the answer: First you lose your freedom of speech and second, women are no longer safe in the streets.
The European elite deny the Islamisation of Europe. Those who have warned of the consequences were branded a conspiracist.
If you follow Islam, then be afraid; rape, war, violence and tyranny are the consequences. Whoever opens the borders for people who follow this ideology may have to face these consequences.
Muslim immigration to Germany has already led to violence, rape, hatred of the Germans, No-go Areas and gang violence.
There are already more lawsuits against people who simply tell the truth about Islam: such as female genital mutilation and child marriage.
"The Liars in Brussels have taken away our ability to protect our nation states."
"Europe can survive, but it is not enough to just close the borders, we need to return the people who are here. This wave of illegal migration across the southern borders must be reversed "
It demands that jihadist mosques have to be closed, their imams  expelled along with all individuals who use barbaric practices such as child marriage and female genital mutilation.
We also call for an end to the speech prohibitions for the population. We call for giving our kids knowledge of and pride in European culture by teaching it to them.
The first and most important step that "we need to take" is to develop more pride in our European civilization and its heritage, said Ann-Marie. She wants the European nation-states to be preserved, so there will continue to be a Germany, a Sweden, a Denmark.
8:44 The National Anthem is sung, led by Ramona.
Lutz Bachmann announces that there will be no demo in Dresden next Monday, instead, on Tuesday an event in Chemnitz, which Dresden was asked to assist with. On February 6, Dresden will go on the road with other European cities.
8:49 Siegfried Däbritz declares the event ended. The plaza empties quickly.
8:55 INCIDENTS on the edge of the demo are reported: While the walk was going on, five cars were torched under the Marie Bridge. They were seen about 8:00 clock in flames, Mopo24 reported.
Also a smoke bomb was thrown at Postplatz from the rows of counter-demonstrators towards the Pegida participants.