Sen. Ted Cruz lauds Elie Wiesel as a moral giant in AIPAC speech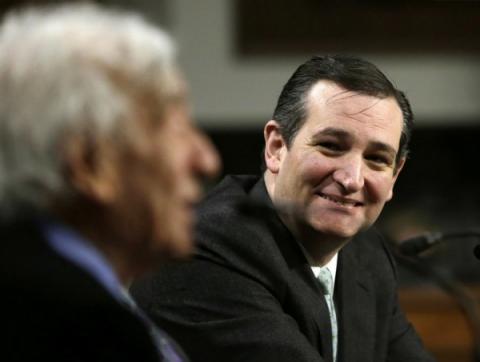 U.S. Sen. Ted Cruz (R-Tex.) listens to Elie Wiesel at a Senate roundtable discussion last year. Cruz said the nuclear talks with Iran were reminiscent of Western appeasement of Hitler.
CURRENTLY RUNNING for the Republican nomination for President of the United States, Cruz spoke on Monday, March 21 to the annual American-Israel Public Affairs Committee, Washington's largest lobbying group and an unregistered agent of the Israeli government in the U.S.
His words were described as those he has spoken many times before, but naturally what stood out to me was what he said about Elie Wiesel.
At 13:40 into his speech he said:
A year ago, I was honored to join the great Elie Wiesel on a panel discussion in the Senate about this disastrous Iranian deal. Not a single democrat was willing to join Elie Wiesel … to sit alongside someone who witnessed first hand the horrors of the "Holocaust," who brings a moral weight and gravity second to none, was both powerful and humbling. And I am convinced, after this election, the American people will stand and say together "Never Again" means never again. Please continue reading at Elie Wiesel Cons The World