USHMM takes on the Alt-Right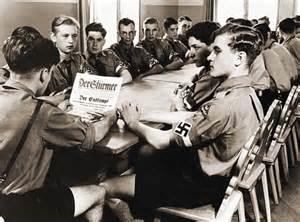 Richard Spencer, Jared Taylor and Kevin MacDonald talking about White people's interests in relation to Pres-elect Donald Trump inspires images like this to the United States Holocaust Museum staff.
---
Hadding Scott has posted a good article at the CODOH website in response to the United States Holocaust Memorial Museum's over-reaction by Andrew Hollinger concerning Richard Spencer's Saturday night NPI conference in Washington D.C. Hadding writes:
The United States Holocaust Memorial Museum is obviously not just a museum, but has a mission of political propaganda in service to specifically Jewish interests. On Monday, 21 November 2016, the museum issued a public condemnation of statements reported to have been made by Richard Spencer in a speech at a conference of his National Policy Institute two days earlier, just a short distance from the USHMM. The museum declared itself "deeply alarmed" and called for action.
The text of the declaration makes clear that the author of the museum's proclamation did not even bother to make a careful determination of what Spencer had said, but simply trusted accounts given by news-media. The USHMM really did not have to rely on press-reports, since the conference was streamed live on YouTube, and the content was accessible immediately afterward. Because the USHMM relied on news-media, its account of what Spencer said is not entirely accurate. Continue reading at Codoh.com