Brave folk of Herxheim vote to retain Adolf Hitler church bell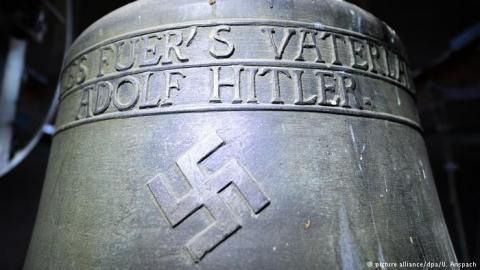 The subject of all the "Sturm und Drang" - this beautiful  bronze church bell from 1934.
---
By Carolyn Yeager
In spite of the best efforts of the former church organist, Sigrid Peters, to make a big political issue of the 1934-era bronze church bell hanging in the village's 1000 year old Jacobkirche, the good folk of Herxheim am Berg showed their lack of concern about the manufactured issue in a parish council vote on Monday, Feb. 26. The council voted 10 to 3 to keep the bell where it was, where it had been without hurting anyone for the past 84 years.
The decision was greeted with applause from many (read most) community members. Amid the controversy stirred up by the leftists and Sigrid Peters, the bell had been silenced since last September pending a decision by the village of 700 inhabitants, only 30 miles from the university city of Heidelberg. Now it will ring again.
The bell has its own historic significance – bearing the words "All for the Fatherland" - Adolf Hitler, with a swastika of modest size. Expert opinion brought to bear judged that it should stay in place or else be moved to a museum. Disposing of it would represent "an evasion of a reasonable and enlightened culture of remembrance."
The fanatical Sigrid Peters, who first publicized the existence of the bell last summer, complained after the vote that it was terrible "that this could happen, that they allow a bell dedicated to a murderer to hang in the church." She even tied the council vote to the electoral success of the "far-right" Alternative for Germany (AfD), saying it wasn't a coincidence. I would say Peters is "far gone."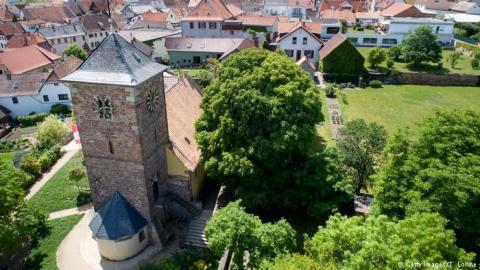 The 1000 year-old Jacobkirche in peaceful Herxheim that was gifted with the special bell for its tower.
---
The anti-bell press tried to push a narrative that "some churchgoers were upset to find they had gotten married, baptized their children, or carried on other religious ceremonies under a Hitler bell", but in truth that simply wasn't the case. That argument was a political effort, pure and simple, which failed to materialize when put to the people.

The previous town mayor, Roland Becker, was forced to resign after he said that not everything was bad during the Nazi era. The current mayor, Georg Welker, tried to take a neutral view, and when the people's representatives were allowed to vote, they showed they were quite comfortable with their Hitler bell. May this be a sign of things to come.