Idiot Netanyahu invents new story of who "burned" the jews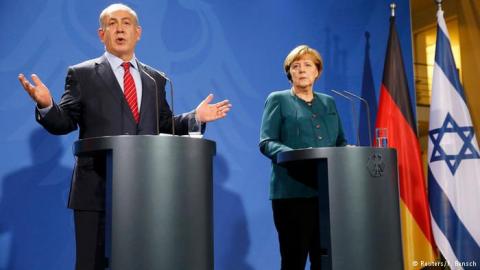 Netanyahu-Merkel press conference in Berlin on Oct. 21, 2015
Netanyahu hates the Palestinians so much that he's now tryng to make them equally guilty with the "Nazis" for exterminating 6 million of his precious jews during WW2.
In a meeting with Jewish leaders yesterday, he said the World War II-era Grand Mufti of Jerusalem, Haj Amin al-Husseini, played a "central role in fomenting the final solution" by trying to convince Hitler to destroy the Jews during a 1941 meeting in Berlin.
"Hitler didn't want to exterminate the Jews at the time, he wanted to expel the Jews," Netanyahu told the group. "And Haj Amin al-Husseini went to Hitler and said, 'If you expel them, they'll all come here.' 'So what should I do with them?' [Hitler] asked. He said, 'Burn them.'"
The holohoax hoax-storians quickly objected to Netanyahu's unexpected change in the sacred story. "Any attempt to deflect the burden from Hitler to others is a form of Holocaust denial," said Moshe Zimmermann of the Hebrew University in Jerusalem.
This took place on the eve of Netanyahu's trip to Berlin to meet with German cohort Angela Merkel. There, standing side by side with Merkel, he changed his story, denying that he was exonerating Hitler of the responsibility for the Holocaust, but added that Palestinian President Mahmoud Abbas was nevertheless glorifying the Grand Mufti.
"The real question should be directed not at me but at president Abbas: why is he and the Palestinian authority glorifying the official mufti of Jerusalem as a Palestinian icon? They call him the father of the Palestinian nation, this is a war criminal who was sought for war crimes."
Can't be glorifying any enemy of Israel, even if it's done by their own people. Clearly, he wants to denigrate the heroes of the Palestinians, and at the same time make the Palestinian nation as guilty as is the German nation. Control through guilt is a Jewish specialty.

Merkel remained non-plussed and said, as the good servant she is:
"Germany abides by its responsibility for the Holocaust. We don't see any reason to change our view of history. We are very clear in our minds about the National Socialist's responsibility for the breach of civilisation that was the Shoah."

She also said (in a rote kind of way) "the security and existence of Israel are part of the German raison d'etat, and this will remain so." [Unacceptable! This was NEVER a decision made by the German people; it was made at Nuremberg and continues to be enforced by the victors of WW2 but really, now, solely by the United States.]
So we expect that from Merkel, but here is something else to think about. Even though she speaks against building more Jewish settlements on Palestinian land (but doesn't enforce it in any way), she wimpily said "Israel has an obligation to protect its own citizens" and added that Palestinians should condemn "everything constituting the support of terror."
The problem is that Merkel doesn't believe in protecting her own citizens! As a total hypocrite, she knows that this monster Netanyahu would never allow Muslims to migrate into Israel because he is protecting his Jews and Israel's Jewish culture. Merkel stands there and supports him, while denying her own people the same.

Netanyahu behaves as a spoiled little boy, an over-indulged brat. Mutti Merkel is there to indulge him, at the expense of her own people. Both Netanyahu and Merkel muss weg.