Jack Sen IS Giacomo Vallone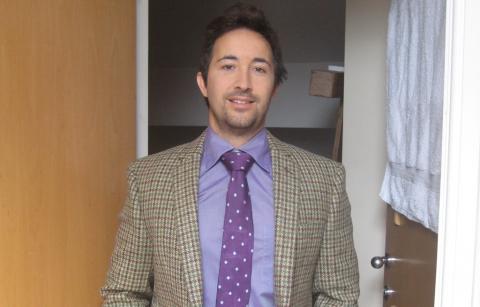 This is "British" politician Jack Sen, also known as Italian-English-American Giacomo Vallone. No pictures of Giacomo ever appeared, at least that he acknowledged.
By Carolyn Yeager
YES, IT'S TRUE. I first came upon this connection only yesterday after writing and posting my critique on the Jack Sen-Nick Griffin interview, seen below. No one sent me any information; I just began searching Jack Sen and came upon the page called jacksenukip.wordpress.com, and read it. Well, a lot of it. It's been online for less than a year.
Renegade Tribune has also written about it. They published an article about Vallone in Nov. 2014 before there was any  mention of Jack Sen; I left several comments there at the time. I included European Knights Project and Vallone in this radio program in April 2014.
I thought the double identity was quite bizarre and was looking for some proof. However all I found was a lot of circumstantial evidence. This, however, made sense to me because I was familiar with the quite unreliable (in my eyes) European Knights Project website; I had my own experience with Mr. Giacomo Vallone in May of 2014, leaving me not wanting to have anything more to do with him. He has a vicious, threatening streak, as well as a dishonest one, which he keeps under cover of a superficially friendly, talkative personality. More on that later.
I found it inexplicible that the well-behaved and respectable, as far as I knew, British politician that I had been reading about here and there could be the same person as this shyster Vallone. Vallone has linked up with several flakey White Nationalist types since coming on the scene: Rodney Martin, Veronica Clark and John de Nugent to name just three. He wanted to link up with me, also, and that's how I got to know him.
Last night, when I went to bed, I was not convinced of anything, but I was only wondering at the possibility. This morning, after rising late and doing some work on the Internet, I put on the new Nick Griffin-Jack Sen radio interview at Red Ice to listen while I worked in the kitchen. And then I heard that voice. It was the same voice I heard during the hour-long skype conversation I had with "Jack" Vallone back in May of 2014. [I just checked on the emails that transpired between us – I still have them. He spelled his name J Vallon, without the "e".]
I realized that when I watched the videos the voice came from Jack Sen's own face and body, and while I did wonder about his New York accent and noticed the slurry quality of his diction, I didn't connect it with Vallone at all, who I had long ago put out of my mind. But, as a disembodied voice on a radio program, I immediately had the shock of recognition as to whose voice it was.
Voices are completely unique, as you may know.
As I listened to the program, Sen's voice brought back the same voice I heard through my earphones two years ago – the same lazy  pronounciation, the rather surprising New York accent, the same vibrational quality and manner of speaking. There was no doubt at all it was the same person. I was transfixed. At the time two years ago, I noticed that Vallone's voice was not what I expected, not European. I was again surprised that Jack Sen's voice was not British, but New Yorker! It turns out Sen has said he grew up in New York City - just as Vallone did. (That's just one of the many coincidences.)
So what is the reason for all this subterfuge? I had never understood what Giacomo "Jack" Vallone was trying to do with European Knights Project; it seemed haphazard, to say the best of it. I now guess that he was mainly trying to get attention and a step up into the political limelight. Since he is now in the political limelight, I'm going to have to write more about my experience with Vallone ... aka Jack Sen. Strange, strange indeed, is all I can say at this time.